Pope Francis Says Door of Dialogue With ISIS Should Never Close; Warns Fighting Terrorism Leads to Deaths of Innocents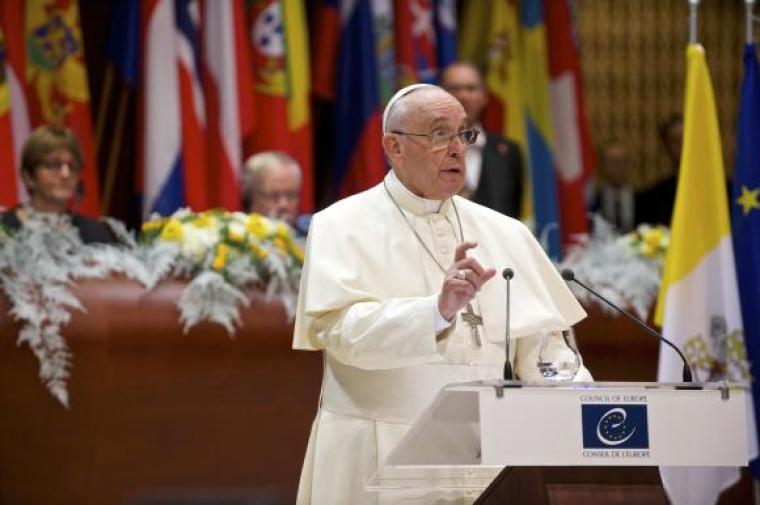 Pope Francis has said that he would "never close the door" on dialogue with terror group ISIS if there is any way it could end the suffering in the region. The pontiff was speaking to reporters on Tuesday following a speech at the European Parliament and the Council of Europe, and added that states striking back against terrorism can lead to loss of innocent life as well.
"I never count anything as lost. Never. Never close the door. It's difficult, you could say almost impossible, but the door is always open," Francis said about talks with ISIS, responding to a specific question of dialogue with the jihadists.
Francis warned that terrorism manifests itself also in the form of national governments using military force unilaterally, Catholic News Service noted.
"But there is another threat, too," he said, the threat of "state terrorism," when tensions rise and an individual nation decides on its own to strike, feeling it has "the right to massacre terrorists and with the terrorists many innocent people fall."
He identified slavery as a major problem plaguing the world alongside such terrorism.
"Slavery is a reality inserted in the social fabric today, and has been for some time: slave labor, the trafficking of persons, the sale of children — it's a drama. Let's not close our eyes to this. Slavery is a reality today, the exploitation of persons," the Vatican leader said.
Earlier on Tuesday, Francis addressed both the European Parliament and the Council of Europe in a major speech, warning the European Union that contemporary political culture could be seen as "downright harmful" to ordinary people.
"In recent years, as the EU has expanded, there has been growing mistrust on the part of citizens toward institutions considered to be aloof, engaged in laying down rules perceived as insensitive to individual peoples, if not downright harmful," Francis told members of the parliament.
"The great ideas which once inspired Europe seem to have lost their attraction, only to be replaced by the bureaucratic technicalities of its institutions."
The Argentinean pontiff also warned that the continent is becoming "less and less a protagonist" in a world that regards Europe "somewhat elderly and haggard."
The Roman Catholic Church leader also paralleled out of touch EU institutions to existential "loneliness" found in Europeans who are treated by others as objects.
"In my view, one of the most common diseases in Europe today is the loneliness typical of those who have no connection with others. This is especially true of the elderly, who are often abandoned to their fate, and also in the young who lack clear points of reference and opportunities for the future," Francis continued.
"It is also seen in the many poor who dwell in our cities and in the disorientation of immigrants who came here seeking a better future. This loneliness has become more acute as a result of the economic crisis, whose effects continue to have tragic consequences for the life of society."
Francis has spoken out about the ongoing war with ISIS before, and has distanced himself from supporting the U.S.-led airstrikes that are striking terror targets in Iraq and Syria.
"War is never a satisfactory way to right injustices," Francis said during an inter-faith colloquium hosted in Belgium in September.
"War leads people into a spiral of violence which becomes difficult to control. It destroys what it has taken generations to establish and leads the way to even worse conflicts and injustices."
The pontiff's comments served to clarify his position in a question he was asked in August about the airstrikes, when he said: "In these cases, where there is an unjust aggression, I can only say that it is licit to stop the unjust aggressor. I underscore the verb 'stop.' I'm not saying 'bomb' or 'make war,' just 'stop.' And the means that can be used to stop them must be evaluated."
ISIS has been accused by the U.N. of committing a number of atrocities throughout the region, including beheading children and forcing hundreds of thousands of religious minorities to flee their homes.
Yotsna Lalji, a U.N. expert who has monitored al-Qaeda and other extremist groups, revealed on Monday that ISIS has made between between $35 million and $45 million off of ransom payments on kidnappings in the past year alone.