Portland church building 15 tiny homes on its campus to shelter the homeless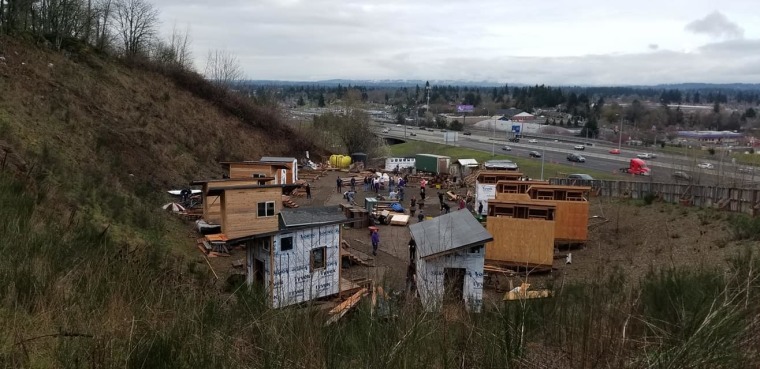 A church in Portland, Oregon is building 15 tiny shelters on its 11-acre property as a tangible way to lift up the homeless in the immediate community and help put them on a path toward self-empowerment.
Central Church of the Nazarene in Southeast Portland will officially open Agape Village this summer.
The village is a nonprofit faith-based initiative designed to provide a substantive response in a community that is largely under-resourced when it comes to providing safe places for the homeless community.
"It started with the church's desire to more effectively love God and love our neighbor," Pastor Matt Huff told The Christian Post.
"And the church is in a place in Portland where we're moving tents off the front step of the church on a regular basis. We've got people camping all over the place. And that's our neighbors. How do we engage them and love them and not just to kick them out?"
Located in an area with a high houseless population, the church has had people living on its property ever since it opened.
Huff explained that the idea for Agape Village was inspired by seeing the work that other churches in the area have done through programs like Opportunity Village in Eugene, Dignity Village in Portland and Kenton Woman's Village in Portland.
According to Huff, the model that will be implemented by Agape Village will take bits and pieces from all the other villages that Huff visited.
Construction on Agape Village began last summer. The work is being done by a volunteer workforce that builds primarily only on Fridays and Saturdays. The village will consist of about 15 "sleeping pods" that measure 96 square feet in area.
The pods won't have electricity, plumbing or heating but will have solar powered batteries that will allow residents to charge a cellphone. The pods will also be insulated.
The village will feature a central common area, a kitchen, bathroom, and shower.
The village will be self-governed and overseen by the Agape Village Board. The village will be monitored 24/7 by volunteers and residents. The village will be fenced off and residents will be required to check in and out as they leave and enter.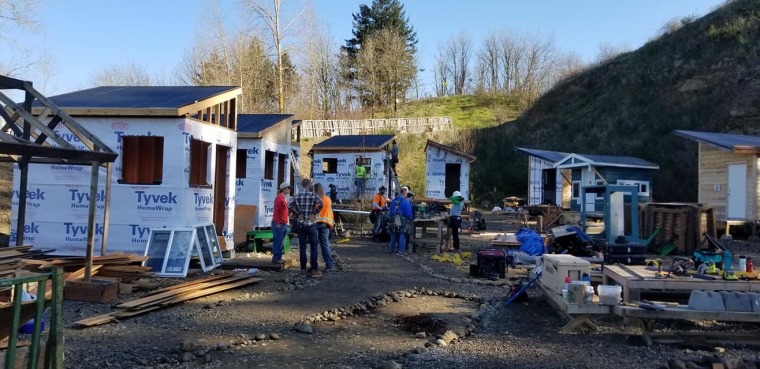 The hope is to officially open Agape Village in June or July, Huff said.
Those who desire to stay at Agape Village will need to go through an application and screening process that will weed out sexual offenders. 
Residents of the village will be expected to follow five basic rules: no violence, no theft, no alcohol/drugs, no disruptive behavior and everyone must put in volunteer hours for the betterment of the community.
Residents will also be expected to take part in weekly meetings.
Huff said there will be a maximum population in the village of 25. That means that some pods could be given to houseless couples but the rest will be only for singles.
While the project will provide shelter to those without a home, the goal is to provide a safe place for the homeless community to transition into permanent housing and "healthier life."
"The ultimate goal is to create a village which involves the entire community in giving our neighbors a hand-up," the Agape Village website explains. "We want this village to be a win-win for everyone - making our community safer while giving people a chance to find health and stability."
Huff explained that while there won't be employment benchmarks residents will have to meet in order to stay in the village, he said that the program is looking for residents to show evidence that they are moving forward in the program.
"The idea is that it's transitional and that you're moving and working towards something," Huff stressed. "And so if you're going to come here and not want to do anything, it's going to be pretty uncomfortable for you to be there. The idea [is] that these aren't your forever homes, that they're a place where you can find safety and stability in the relationship that you need to move on to wherever God wants to have you in life."

Each resident will be assigned a case manager who will be responsible for helping the residents find employment. The case managers will not directly work for Agape Village but rather one of the village's partner organizations.
The hope, Huff said, is to get 15 different churches to adopt each of the pods.
"I'm just asking for them to come and be friends with the people in it," said Huff.  "And then the church can love them and give them socks if they need socks or wish them a happy birthday."
Church attendance will not be required to be part of the program.
Although the idea for a homeless village like Agape Village is not new, Huff believes Agape Village is the first in Portland to be built on church property.
There are a number of factors playing into the high level of homelessness in Portland, Huff said, including rising rent and drug addiction.
"And in our particular area or neighborhood, there are no shelters," he said. "The shelters that are open are full and more downtown. People don't have a place to go to. So they end up here."
Agape Village is partnering with various organizations such as a local hospital to provide Agape Village residents with services like peer-to-peer counseling, drug and alcohol rehabilitation, mentor support, and case management. Huff said that there are at least 15 outside organizations and other churches that have partnered with Agape Village.
Although Agape Village is a nonprofit entity separate from the church, Huff stressed that it is still a ministry of Central Church of the Nazarene. He explained that creating a separate nonprofit makes it much easier to get government grants.
A fundraising dinner was held earlier this month in which over $11,000 was raised to benefit Agape Village. According to the village's Facebook page, enough money was raised to cover operating and building expenses through 2020.