President Bush Meets Up With Obama in Africa; Cares More About Humanitarian Work Than Poll Numbers
President Bush Meets Up With Obama in Africa; Cares More About Humanitarian Work Than Poll Numbers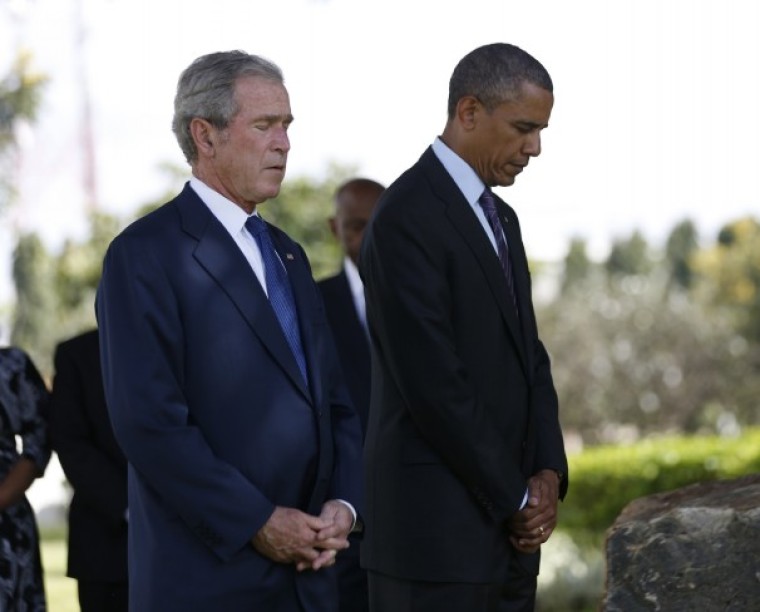 Former President George W. Bush joined President Obama Tuesday to solemnly commemorate the 15th anniversary of Osama Bin Laden's first attack on the United States while the two American leaders were in Africa this week on separate trips. But politics could be farther from President Bush's mind now as he spends his retired life focused on humanitarian works and avoiding partisan debate and caring too much about public approval ratings.
Tuesday marked the first time two American presidents have met on foreign soil to commemorate a terrorist attack. As CBS' Major Garrett reported, "two embassy bombings in Africa announced Osama bin Laden's terror assault on the West."
On August 7, 1998, twin suicide truck bombs hit the U.S. Embassy in Dar Es Salaam, Tanzania, and in Nairobi, Kenya, killing 223, and wounding over 4,000. Presidents Bush and Obama shared a moment of silence at the plaque this week commemorating the attack, and greeted family members of victims and embassy survivors.
Obama's recent trip to Africa aimed at boosting trade and investment, encouraging democracy, advancing food safety and health, and inspiring young people. But in contrast to the sitting president, Bush had a completely non-political agenda and said his purpose in Africa was humanitarian. "I made the decision, post-presidency, to stay out of the limelight, let others debate the key issues," Bush told CNN Tuesday.
"This program – pink ribbon, red ribbon – is a vehicle to spend the rest of my life, best as I can, trying to improve the human condition."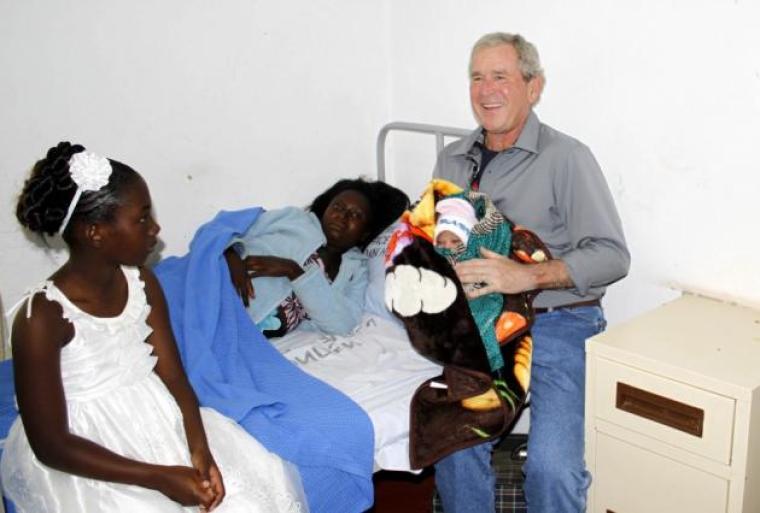 "It breaks your heart," he explained, "to realize that such hope was given to communities throughout the continent of Africa [through PEPFAR] and then women are dying of cervical cancer."
In 2003, President Bush implemented a five-year, $15 billion program to combat HIV/AIDS in Africa, known as the President's Emergency Plan for AIDS Relief, or PEPFAR. The Stanford School of Medicine found the AIDS death toll had fallen by 10 percent between 2003 and 2007 in PEPFAR countries. In 2008, Congress reauthorized the program.
"I'm very proud of the American people for their generosity," Bush said. "Billions have been poured into a far-away land. I wish Americans knew how many lives are saved as a result of their generosity, and someday they will."
Due to this program, President Bush seems more popular than his successor in large parts of the continent. "Obama will always be a role model," Rosebell Kagumire, a Uganda human rights activist, told the Telegraph, but "he is almost hands-off, which has been criticized as doing nothing."
Last month, the former President received the first positive approval rating since 2005. A Gallup Poll found that 49 percent said they view him favorably, 46 percent unfavorably.
As CNN's Robyn Curnow asked Bush about the polls, he cut her off, mid-sentence.
"In the polls you are now sort of –"
"Couldn't care less," he interrupted. "The only time I really cared was on Election Day." Later, he thanked her for mentioning the positive polling, but added that he does not care about his current reputation.
"Ultimately, history will judge the decisions I made. I won't be around, because it's going to take a while for the objective historians to show up," he added, making a cheerful jab at the solid opposition he faced from journalists throughout his presidency.
When asked about Edward Snowden, the ex-CIA operative who released confidential information to protest surveillance, Bush attacked Snowden and defended the Obama administration.
"I think he (Snowden) damaged the security of the country," the former President alleged. "I put the program in place to protect the country, and one of the certainties is civil liberties were guaranteed," he added, defending the PRISM program of internet surveillance which Snowden exposed.
"I think there needs to be a balance," between security and privacy, Bush said. "As the President explained, there is proper balance."
Bush also said that he decided not to criticize his successor. "I don't think it does any good," he explained. "It's difficult and a former President doesn't need to make it harder."