Presidents Honoring God Is Constitutional, Justice Scalia Says, 'God Has Been Very Good to Us'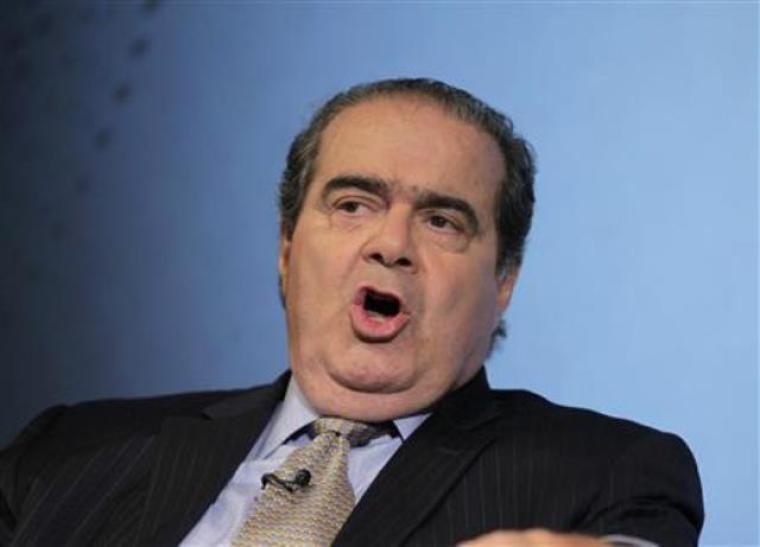 Supreme Court Justice Antonin Scalia said the U.S. Constitution doesn't prohibit presidents from honoring God or the goverment from placing religion above secularism, though added that one denomination cannot be favored over another.
Scalia, who is a Roman Catholic, told the audience at Archbishop Rummel High School in New Orleans on Saturday that there is no reason to believe the Constitution dictates state neutrality between religion and its absence.
"To tell you the truth there is no place for that in our constitutional tradition. Where did that come from?" Scalia said, according to The Associated Press. "To be sure, you can't favor one denomination over another. But can't favor religion over non-religion?"
The Justice, who has served for nearly 30 years after being appointed by president Ronald Reagan in 1986, also said that there is "nothing wrong" with U.S. presidents thanking God and talking about God in speeches. He added that America has enjoyed success precisely because it is not afraid to honor God.
"God has been very good to us. That we won the revolution was extraordinary. The Battle of Midway was extraordinary. I think one of the reasons God has been good to us is that we have done him honor. Unlike the other countries of the world that do not even invoke his name we do him honor. In presidential addresses, in Thanksgiving proclamations and in many other ways," he continued, looking back at history.
"There is nothing wrong with that and do not let anybody tell you that there is anything wrong with that," he added.
Scalia authored one of the Supreme Court's most controversial religious freedom decisions, Oregon v. Smith. In that decision regarding to laws that happen to (rather than designed to) infringe upon religious freedom, he wrote that as long as the law is neutral with regard to religion (treats all religions the same), the law doesn't require an accommodation for the religious belief being infringed.
This decision was criticized by those holding the "accommodationist view," which argues for expanded religious freedom when accommodations are possible. The accommodationist view influenced passage of the Religious Freedom Restoration Act, and more recently has been used to defend some whose religious beliefs about marriage are in opposition to the legalization of gay marriage.
Scalia has not shied away from making strong statements about the Constitution in the past, and back in April, 2014, suggested that American citizens "should revolt" if they deem that taxes have gotten too high.
He also wrote a lengthy dissent to June 2015's Supreme Court decision that sided with legalizing gay marriage across the country, arguing that the Courts put a stop "to American democracy at its best."
"A system of government that makes the People subordinate to a committee of nine unelected lawyers does not deserve to be called a democracy," Scalia wrote at the time.
And in December, he argued in an affirmative action case that minority American students might fare better at "less advanced" schools.
"There are those who contend that it does not benefit African Americans to get them into the University of Texas where they do not do well, as opposed to having them go to a less-advanced school, a slower-track school, where they do well," Scalia wrote.