President Obama Misquotes Bible During Immigration Policy Speech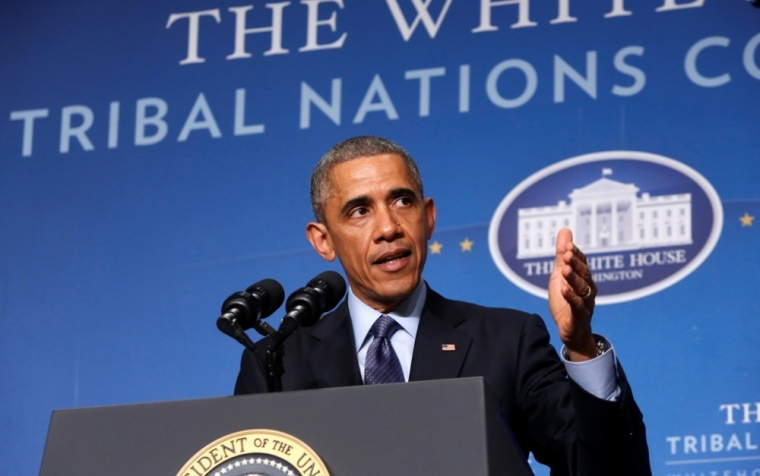 President Barack Obama has garnered much attention for misquoting of the Bible during remarks made in defense of his immigration policy executive order.
At a speech made on Tuesday in Nashville, President Obama cited the Bible when pitching his plan for immigration reform.
"The good book says, don't throw stones in glass houses or make sure we're looking at the log in our eye before we are pointing out the mote in other folks' eyes," remarked Obama.
On social media and elsewhere, people were quick to note that the first part of Obama's citing of the Bible does not appear in the Bible.
"Pretty sure the Bible has nothing about throwing stones in glass houses. But please correct me if I'm wrong," posted Charlie Spiering on Twitter on Tuesday afternoon.
Judging by the usage of the word "mote", which in older English means speck, Obama was likely quoting the King James Version of the Bible, first published in 1611.
The proverb that people who live in glass houses should not throw stones has a complicated past, with variations of the phrase appearing in the works of Geoffrey Chaucer and Benjamin Franklin.
The second part of the citation by Obama does indeed exist in the Bible and can be found in a passage in the Gospel of Matthew, chapter 7.
"Why do you look at the speck of sawdust in your brother's eye and pay no attention to the plank in your own eye? How can you say to your brother, 'Let me take the speck out of your eye,' when all the time there is a plank in your own eye? You hypocrite, first take the plank out of your own eye, and then you will see clearly to remove the speck from your brother's eye," reads the biblical text as rendered by the New International Version.
This is not the first time that Obama has made an appeal to the Holy Bible when arguing in favor of his recent push for immigration reform.
In a speech made last month regarding the controversial executive order on immigration, Obama correctly cited verses from the Old Testament about welcoming the stranger among us.
"Scripture tells us that we shall not oppress a stranger, for we know the heart of a stranger –- we were strangers once, too," said Obama.
"We were strangers once, too. And whether our forebears were strangers who crossed the Atlantic, or the Pacific, or the Rio Grande, we are here only because this country welcomed them in, and taught them that to be an American is about something more than what we look like, or what our last names are, or how we worship."
Numerous passages of the Bible command that believers welcome the foreigners among them, including Deuteronomy 10:19 and Leviticus 19:34.