President Obama's Christian Faith 'Has Deepened' in Second Term, Say Spiritual Advisors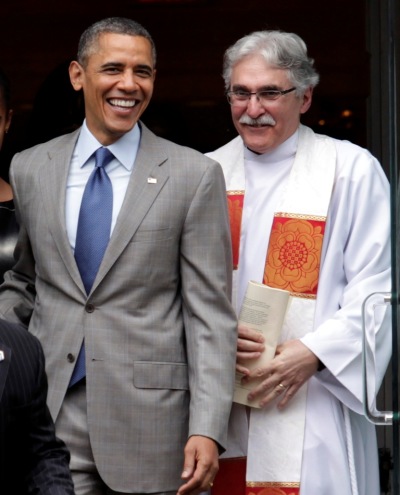 President Obama's Christian faith has "deepened" during his second term, despite him rarely attending church on Sundays, so say his two closest spiritual advisors.
On Christmas Day, the first family didn't attend a church service in Hawaii, where they are on vacation. Instead, they sang Christmas carols at their vacation home, visited troops and spent quality time together at the beach at the Bellows Air Force Station in Oahu.
Since taking office in 2009, Obama has spent just one Christmas morning in church, which for some concerned critics has been enough to warrant heavy assumptions about his commitment to faith.
According to a small circle of religious confidants, Obama's more committed to his faith than ever, he simply chooses to partake in praise and worship in other ways. They claim that his attendance can also be distracting for fellow parisheners.
Joshua DuBois, a longtime spiritual adviser to Obama who led the White House Office of Faith-based and Neighborhood Partnerships during the president's first term, says that, in fact, church attendance really has no bearing on his devotion to Christianity.
"The president's faith has deepened in the second term; he's said as much," DuBois told reporters, according to Politico.com, which has kept close tabs on his church attendance throughout his presidency.
He continued, "The president's Christian faith is not connected to or dependent upon anyone else's beliefs about him, any particular policy issue, any moment in the news cycle or anything else. The president's faith existed long before the While House and will continue after he closes the door to the White House for the last time."
Also among Obama's circle of spiritual advisors is Florida megachurch pastor Joel Hunter, along with Jim Wallis, and 90-year-old Joseph Lowery, founder of the Southern Christian Leadership Conference.
Instead of worshiping in the pews on Sundays, Obama prefers to pray alone, read scripture via his cell phone and meet with his religious advisors in the Oval Office. He also began hosting an Easter prayer breakfast at the White House three years ago, which some critics say shows commitment to extending his faith along political lines.
"Reading scripture every day yields a certain amount of personal growth, and he's done this every day for years," Hunter said.
At prayer breakfasts and other gatherings, Hunter said he's seen "a man who really enjoys talking about his faith" and who "seems at home. … It's a good indication that he is growing in his faith."
Hunter also said Obama makes it a point to "pray for the country" each time they meet for prayer.
According to Politico, Obama has spent 6 percent of his presidency's Sundays in church compared to that of George W. Bush who attend church nearly 30 percent of the time.
Some political commentators, like Fox News' Bill O'Reilly, have questioned whether the president's low church attendance can be attributed to the 2008 Jeremiah Wrightt controversy. At the time, Obama chose to distance himself from Wright, his former pastor, as well as Chicago's Trinity United Church of Christ, after a number of controversial sermons were brought to light.
In an interview on the TV morning program "Live with Kelly and Michael," Michelle Obama explained why her family doesn't regularly attend church: "We try to go to church as much as possible. … But if we're not going to church, we really try to use Sunday as family downtime where we can kind of breathe and catch up and maybe take a little nap every now and then if we're not working."
During the 2012 Democratic National Convention Obama cited a quotation about spirituality that was attributed to Abraham Lincoln. "... And while I'm proud of what we've achieved together, I'm far more mindful of my own failings, knowing exactly what Lincoln meant when he said, 'I have been driven to my knees many times by the overwhelming conviction that I had no place else to go,'" he said.