President Trump Calls for Death Penalty for NYC Terror Suspect Sayfullo Saipov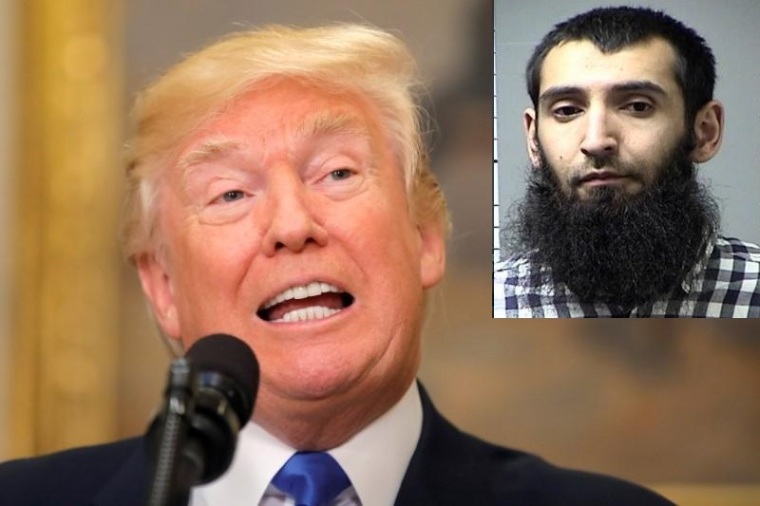 President Donald Trump has called for the death penalty for Sayfullo Saipov, the unrepentant 29-year-old Uzbekistan immigrant suspected of killing eight people and injuring at least 11 others in a terror attack in New York City Tuesday.
Saipov who came to the U.S. in 2010 via the Diversity Visa Lottery Program, allegedly bragged to police from his hospital bed that he would have continued his Halloween massacre had he not crashed into a school bus according to an MSN report. He told police he was pleased with his actions and made "no bones" about what he did sources say.
Responding to Saipov's reaction to his attack, President Trump who is from New York City called for the death penalty in a late night tweet on Wednesday.
"NYC terrorist was happy as he asked to hang ISIS flag in his hospital room. He killed 8 people, badly injured 12. SHOULD GET DEATH PENALTY!" Trump declared.
The president doubled down on his call Thursday morning noting that he wished to send Saipov to the Guantanamo Bay detention camp but justice would be delayed.
"Would love to send the NYC terrorist to Guantanamo but statistically that process takes much longer than going through the Federal system," he said before calling again for Saipov's death.
"There is also something appropriate about keeping him in the home of the horrible crime he committed. Should move fast. DEATH PENALTY!" Trump added.
New York City Police Commissioner James O'Neill said that at 3:05 p.m. on Tuesday Saipov allegedly entered the West Side Highway bicycle path at Houston Street and began driving a rented Home Depot pickup truck south bound, striking a number of pedestrians and bicyclists along the route.
At Chambers Street the truck collided with a school bus injuring two adults and two children. After the collision, Saipov exited the truck brandishing two handguns. A uniformed NYPD officer identified as Ryan Nash, 28, confronted him and shot him in the abdomen. He was transported to the hospital and a paintball gun and a pellet gun were recovered from the scene.
FDNY Commissioner Daniel Nigro said six of the eight people who died, all males, were pronounced dead at the scene.
According to The New York Times, five of the dead were Argentine tourists who had traveled to New York for a 30-year high school reunion celebration. They were identified as Hernán Mendoza, Diego Angelini, Alejandro Pagnucco, Ariel Erlij and Hernán Ferruchi. Martín Ludovico Marro, a sixth member of the group, was wounded. Belgian officials also confirmed that one of the dead and three of the injured were from Belgium.
Shortly after the attack in New York City, President Trump also vowed to eliminate the Diversity Visa Lottery Program through which Saipov entered the U.S. The program distributes about 50,000 immigrant visas to countries where there is a low rate of immigration to the US.
"I am, today, starting the process of terminating the diversity lottery program," Trump said Wednesday. "I am going to ask Congress to immediately initiate work to get rid of this program, diversity lottery, diversity lottery. Sounds nice, it is not nice, it is not good. It hasn't been good and we have been against it."
He further noted that he wanted to get rid of "chain migration" to the U.S. and move to a system that is "merit based."
After coming to the U.S. through the diversity lottery, Saipov, he explained "was the point of contact, the primary point of contact for, and this is preliminarily, 23 people, that came in or potentially came in with him and that is not acceptable."