Princeton Seminary Cancels Award to Tim Keller After LGBT Complaint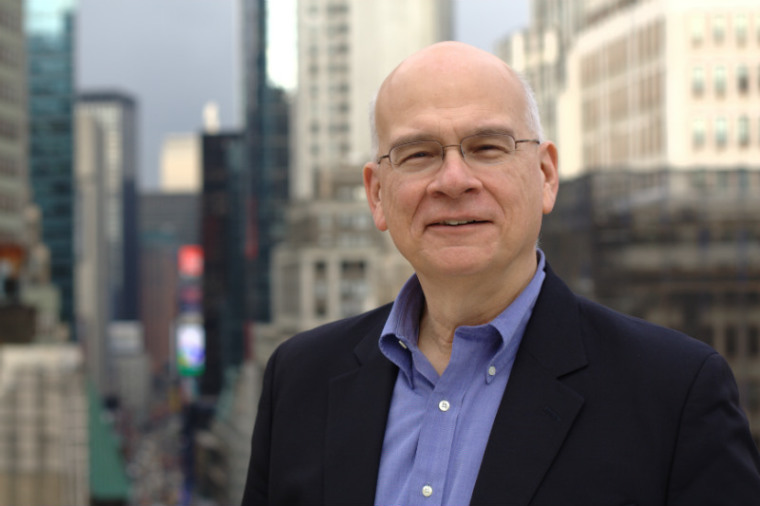 A week after disgruntled Princeton Theological Seminary alumni complained that Tim Keller, founding pastor of Redeemer Presbyterian Church in New York City, should not receive the school's Kuyper Prize because of his church's position on the ordination of women and LGBT individuals, the seminary decided Wednesday not to give the award this year.
"I have ... had helpful conversations about this with the Chair of the Kuyper Committee, the Chair of the Board of Trustees, and Reverend Keller. In order to communicate that the invitation to speak at the upcoming conference does not imply an endorsement of the Presbyterian Church in America's views about ordination, we have agreed not to award the Kuyper Prize this year," M. Craig Barnes, president of Princeton Theological Seminary, wrote in a statement Wednesday.
The Abraham Kuyper Prize for Excellence in Reformed Theology and Public Life is awarded each year to a scholar or community leader whose outstanding contribution to their chosen sphere reflects the ideas and values characteristic of the Neo-Calvinist vision of religious engagement in matters of social, political and cultural significance in one or more of the spheres of society. A condition of the prize is that the recipient deliver a lecture on a topic appropriate to the aims of the Abraham Kuyper Center for Public Theology.
Keller, 66, started Redeemer in 1989 with his wife, Kathy, and three young sons. For more than 20 years he led the diverse congregation of young professionals that has grown to a weekly attendance of more than 5,000. He also serves as chairman of Redeemer City to City, which starts new churches in New York and other global cities, and publishes books and resources for faith in an urban culture. In over 10 years, they have helped launch over 250 churches in 48 cities.
On April 6 at the Princeton Seminary campus in Miller Chapel, Keller was slated to collect the  Abraham Kuyper Prize and deliver a lecture on church planting.
About a week ago, however, Princeton Theological Seminary alumna Traci Smith complained in a blog post that she doesn't believe Keller should be honored because of the Presbyterian Church in America's position on the ordination of women and LGBT individuals.
"Rev. Keller is arguably the most influential pastor of a denomination that is very clear in its assertion that women should not be ordained to ministry. He (and the denomination he serves) is also very clear in its exclusion of LGBT people," Smith wrote.
Her complaint quickly drew traction among the Princeton community, forcing a defense from Barnes.
"While my office issues the official invitations to campus, I don't practice censorship over the choices of these organizations, even when I or the seminary disagree with some of the convictions of these speakers," Barnes wrote in an earlier statement.
"My hope is that we will receive Rev. Keller in a spirit of grace and academic freedom, realizing we can listen to someone with whom many, including me, strongly disagree about this critical issue of justice," he ended.
The complaints, however, grew louder and on Wednesday, Barnes capitulated in a compromise. While Keller will no longer get the award, he will still be allowed to speak.
"The Kuyper Center's invitation to Reverend Keller simply to lecture at their conference will stand, and he has graciously agreed to keep the commitment. We are a community that does not silence voices in the church. In this spirit we are a school that can welcome a church leader to address one of its centers about his subject, even if we strongly disagree with his theology on ordination to ministry. Reverend Keller will be lecturing on Lesslie Newbigin and the mission of the church – not on ordination," Barnes argued.
In a statement on her Facebook page Wednesday, Smith said allowing Keller to speak but not give him the award was a compromise she could live with.
"Rev. Tim Keller will speak, but not receive the award. About this I say, 'Well done, President Barnes. I appreciate this response, and you. This is the right move. Yes to academic freedom. Yes to listening to others whose opinions are different from our own (no matter how distasteful they may be.) No to giving large fancy prizes that can be confused with endorsement. Some may not be satisfied with this response. I think it's a great compromise. Yes to this!'" she noted.
 Daniel Wolpert, executive director at Micah: Minnesota Institute of Contemplation and Healing, praised the decision as well but noted that he would have preferred if a "queer theologian" was giving the lecture instead of Keller.
"Well, something is better than nothing, and it does show that speaking up is a very good thing. Still would rather have a Queer theologian giving the talk," he wrote.
Meanwhile, Owen Strachan, director of the Center for Public Theology at Midwestern Baptist Theological Seminary, called the decision to strip Keller of the prize "deeply saddening and upsetting."
"How deeply saddening and upsetting this is. Tim Keller is a complementarian, yes. He has taught what the Bible teaches regarding male leadership in the home and church, and he does not believe homosexual practice is faithful to Scripture," he wrote.
"But now, Keller's views on complementarity and homosexuality render him a target from illiberal voices. Do not miss this: Tim Keller, a gracious man if there ever was one, is being publicly shamed for holding what Scripture teaches, which is now 'toxic theology,'" he contended.
"But mark the irony: today, Kuyper could not receive his own award, as Michael Guyer noted. Nor could Hodge or Warfield or Machen—strong complementarians all—win such an honor, or perhaps even teach at the school they did so much to establish and strengthen. Those who promote tolerance in our time show so little of it; those who call for charitable dialogue do so little to extend it. Biblical sexual ethics is where this take-no-prisoners battle is the fiercest. The scandal of the cross now extends to our vision of the sexes," he added.
Keller's church did not respond to requests for comment Wednesday.