Priscilla Shirer Talks Women and the Church, Moving From the Pew to the Pavement and Why Christine Caine Is at the Top of Her List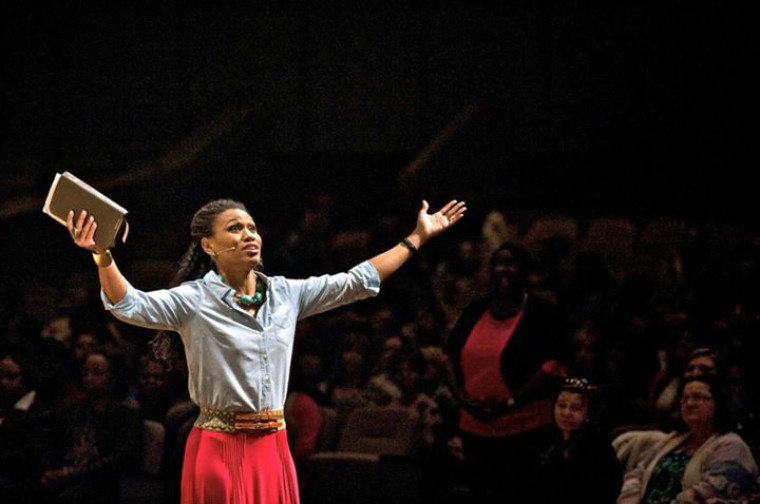 Priscilla Shirer, popular Bible teacher, author and conference speaker, recently spoke with The Christian Post about her new book, God Is Able, in which she unpacks Ephesians 3:20-21 to explain how Christians can personally apply the Scripture's proclamation that God can "do exceeding abundantly above and beyond anything that you can ask or think." The married mother of three also shared her views on women in ministry and why Christians need to get out of the pews and onto the pavement.
Below is a transcript, edited for clarity, of CP's exclusive interview with Shirer.
CP: There's been more talk recently about women consistently being underrepresented in some areas of Christianity, especially when it comes to well-known platforms and conferences. You travel a lot and speak at conferences often. What's your take and experience on that?
Shirer: I think the church has come and is coming a long way in trying to figure out what to do with women in the Body of Christ. I believe in the Scriptures, I believe that Paul was very very clear on the design that God put in place when He created men and women and created the order of the church, so I do believe in order. I believe that there is a place for men in the Body of Christ. I believe that there is a place for women in the Body of Christ. I think the church is coming along in trying to see what do we do in encouraging and valuing and stamping with our approval the gifts and the talents and the abilities that God has very clearly given many women in very different areas, not just on a platform, but in many different areas to minister and edify the Body of Christ.
Definitely, obviously there is a little bit of a disparity between men and women that we see serving at conferences, but that might just be because the church is just catching up to trying to figure out how do we in the best way, and in an orderly appropriate way that will honor the Scriptures, how do we utilize both men and women in a way that will be honoring to God.
CP: Who would you say are some of the vital, influential and/or unique voices right now in Christianity, in America or globally?
Shirer: Christine Caine would be at the top of my list. She is a brilliant communicator of God's word, but not only that, this is a woman who's on a mission to see His kingdom come on earth. She doesn't just have a ministry where she's on a platform, but she and her husband have an anti-human trafficking organization (The A21 Campaign), and they are literally in other countries kidnapping women and children out of brothels and out of slavery and arresting them back into normal society, helping them to change their lives, get the counseling they need, the jobs they need to be able to live outside of these horrific situations that so many men and women and small children have been taken into. So I've got a great affection for them and for their ministry, again, not only because of her power on the platform, but because they are just being the hands and feet of Jesus when they're not on a platform. They literally are traveling the world and saving people that need to know that God loves them and He cares about them.
Then also Beth Moore. Beth Moore is a fantastic communicator of God's word. I have the utmost respect for her. She's a friend and mentor, a woman of integrity. I have rarely heard someone teach the Scriptures the way Beth Moore can.
CP: You mention in God Is Able that Richard Allen Farmer helped inspire you to grasp what you believe Ephesians 3:20-21 teaches about trusting in the power of God. But who are some others who have impacted your outlook, journey, ministry, etc.?
Shirer: I have a couple of Bible study leaders in my life. One of them, her name was Mary Elaine, and let me tell you something, this woman had so many testimonies of how God had done miraculous things for her and her family. I would just sit with my chin in my hands like a little school girl over coffee listening to this woman tell me how much God had done for them. When you're around somebody like that, it builds your faith because it reminds you that God can do amazing things. So I have made it a point to surround myself with people like her, another gentleman named George...there are just so many people that have been very instrumental just because of their testimony in stirring in me an interest in seeing God move in bigger and more grand ways in my life.
Let me just say, too, in this regard that every person that I know of that I've come in contact with that (has) encouraged me in this area with having faith in God, every one of them are people that live on the extreme fringes of faith. What I mean by that, is that these are people who don't stay in these comfortable safe zones of Christianity. These are people who when God beckons them to go, they just go. They don't know how they're going to have the money for it, or if they have the skill for it or the talent for it, to teach that Bible study or to take that job, or to move here or to do that…but these are people that don't question God. They don't negotiate with God, they just trust Him, and they walk out on the water. Because they're willing to take a step out of the boat and walk on the water, well God allowed them to walk on the water.
A lot of times the reason why folks like me that are used to living in these safe little Christian bubbles, the reason why we never feel like we get to walk on the water is because we won't get out of the boat. So I've loved being around these people because they've encouraged me, not only because of what they've seen God do in their life, but also because I've gotten a front row seat to see what they have been willing to do simply by having faith in the word of God compelling them to do it. And then trusting that if He's called them to it, He will equip them for it.
CP: What's your dream, vision or goal for the Body of Christ? Basically, why do you do what you do?
Shirer: I do what I do because I think...I've seen for myself that there has been a desire the Holy Spirit has placed in me to allow my belief system to move from the pew to the pavement. What I mean by that is we've been sitting in church for so long, we need to take what we've been hearing and actually live it. I think as we begin to live it, then we'll actually get to see what being a Christian is all about. If Christianity is just about Sunday morning, well then we're in trouble because we've got six other days of the week that we need to see this stuff working in. So it's time for the Body of Christ to get up off of the pews on Sunday and then head out into the world living what we know. We don't necessarily need to learn new stuff, we just need to put into practice this stuff we've already learned.
Click here to read CP's interview with Shirer about her new book God Is Able. Learn more about her ministry at GoingBeyond.com.