'A Prophet of American Civil Religion': 4 Historians Reflect on Billy Graham's Legacy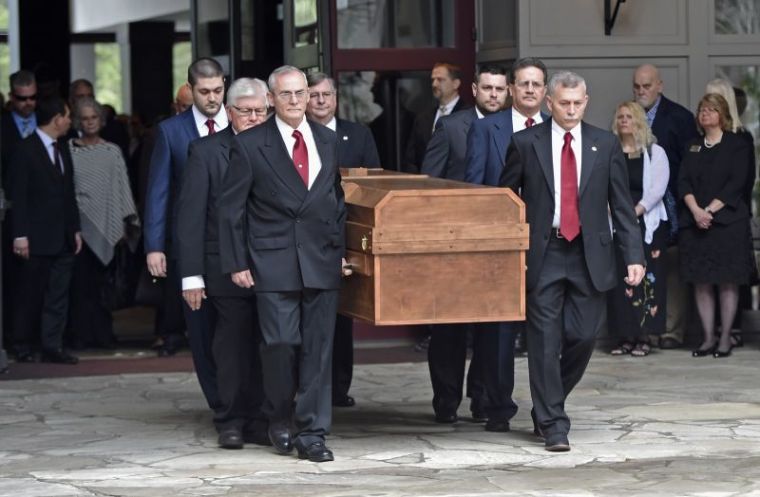 Last month, famed evangelist the Reverend Billy Graham passed away at age 99, having been in the public light for over 70 years.
A preacher who spoke before an estimated 215 million people in more than 180 nations, Graham has had an extensive cultural impact and was best known for his large open-air services calling on people to repent and believe the Gospel.
As Graham is laid to rest, many are debating the details of his legacy and examining the biggest impact he had on American culture and religious practices.
Christina Littlefield, assistant professor of Journalism and Religion at Pepperdine University's Seaver College, told The Christian Post that Graham "had mass appeal to all socio-economic classes and ethnicities."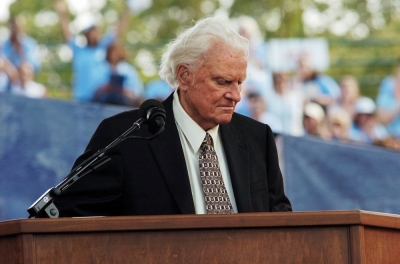 "The polling data still shows that people who have a strong clear moral 'this is what's right' are still attractive to a huge part of the population," said Littlefield.
"And he had such confidence in the Gospel and I think that was appealing to many as far as the thousands that he preached to."
Littlefield described Graham as "a prophet of American civil religion," especially during the Cold War era, which was "the height of his popularity."
"He's a big, big part of promoting 'In God We Trust' as part of American national identity, for him of course it was a very Gospel-centered 'In God We Trust,'" explained Littlefield.
"What I think is going to be the biggest legacy of Billy Graham is how much he was a part of that as well as part of the rhetoric that we still see today of 'we are not living up to the covenant we have with God.' 'We're not living as a Godly nation.'"
Littlefield also believed that Graham's ongoing legacy was that of the debate over sexual harassment and the "Billy Graham Rule," which involved the evangelical leader refusing to be alone with a woman other than his wife.
The Rule garnered a lot of recent media attention when it was revealed that Vice President Mike Pence was known to follow the standard.
"For him that was part of how he was able to stay so squeaky clean," said Littlefield, who noted that even before the rise of the Me Too Movement, her students often debated the merit of the Rule.
"It's also very problematic because it keeps women out of the room and it keeps women out of ministry. And so my young students are wrestling with how do we maintain strong boundaries while also make sure that women are not being treated as if they are only sexual seductresses."
Molly Worthen, an assistant history professor at the University of North Carolina at Chapel Hill, directed CP to a column she wrote in 2013 for CNN on how Graham was an "American icon" and "the most famous face of traditional Protestant Christianity."
"Graham rose to success in the God-fearing years of the early Cold War," wrote Worthen. "Tall, handsome, 'like Gabriel in a gabardine suit' according to Time magazine, Graham appealed to Americans' hunger for spiritual direction."
"His sermons contained just the right mix of patriotism and reproof. He urged Americans to stand strong against 'godless communism' but also criticized American hubris."
Worthen added that while many evangelical and fundamentalist groups have had certain objections to Graham's ministry and outreach, they could not dent his influence.
"Some evangelicals rejected the idea that Christians must experience the radical 'born-again experience' at the heart of Graham's crusades: they believed that conversion is sometimes slow and incremental. Others objected to the conservative politics of Graham," continued Worthen.
"I have spent the past few years researching the stories of these different evangelical communities, ranging from pacifist Mennonites to tongues-speaking Pentecostals. I found that even if they disagreed with Billy Graham, they had no choice but to take him seriously."
In a column for Patheos published Feb. 23, distinguished historian Philip Jenkins of Baylor University opted to reflect on the apocalyptic messages Graham gave during the 1950s.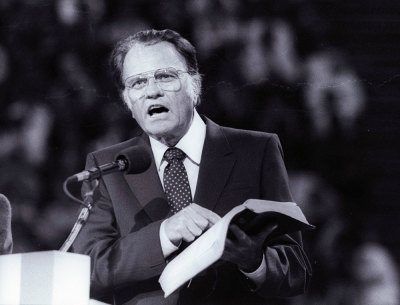 Jenkins argued that to understand Graham's early appeal and what led him to such great stardom in America, one must focus on his Cold War-era preaching centered on the apocalyptic rhetoric on the rise of Communism.
"Though in later years Graham was known as a moderating voice within the evangelical movement, his missions of the 1950s were more overtly apocalyptic than those of later years, and as for Catholic preachers of the time, the total evil of Communism was taken for granted," wrote Jenkins.
"Graham represented the apocalyptic strain in the evangelical approach to Communism, the diabolical inspiration of which was proved by the destruction of Christian missions in China and elsewhere. The imminence of the end times might well be signaled by historic events like the recent return of the Jews to the land of Israel – and of course, the development of larger and larger nuclear weapons. If you did not recognize that these were the end times, you weren't reading the headlines."
Thomas S. Kidd, distinguished history professor and associate director of Baylor's Institute for Studies of Religion, concurred with Jenkins' assessment.
"It is probably more helpful — and even edifying — to realize that Graham's remarkable evangelistic labors transpired within a specific historical context," wrote Kidd in an entry on the Gospel Coalition's website.
"We're all embedded in our cultural surroundings, which should make us cautious about combining current political controversies, even ones as serious as the threat of hydrogen bombs, with the message of salvation through Christ. The Cold War was just one of many facets of that context in which God blessed Graham's transcendent message."