Protests, Bloodshed in Jerusalem; Israeli Embassy in Jordan Attacked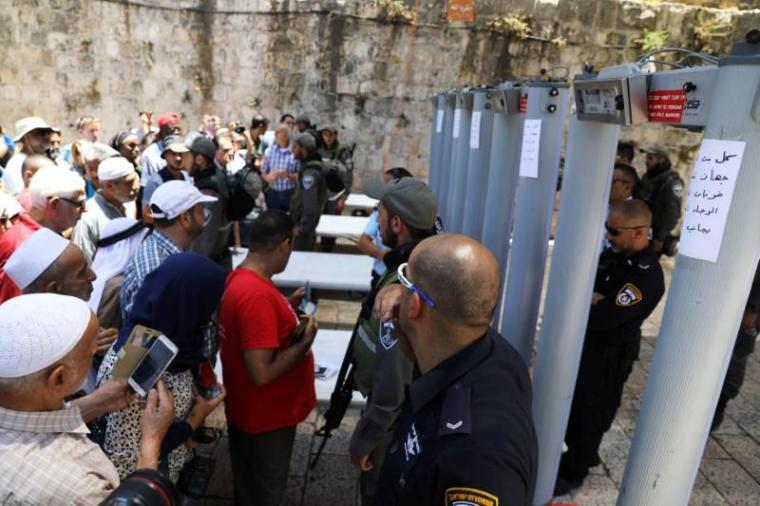 Israel has sent extra troops to the West Bank after at least seven people were killed in the worst Israeli-Palestinian violence in years. An Israeli security guard was also stabbed at the country's embassy in Jordan Sunday. The U.N. Security Council is holding an emergency session Monday.
Violent demonstrations leading to clashes between riot police and protesters have been going on in and around Jerusalem, especially near the Temple Mount area which also hosts the Muslim site Haram al-Sharif. The protests, in response to Israel's recent decision to install metal detectors at entrances to the complex, have left at least seven Israelis and Palestinians dead, according to Reuters.
Israel said Sunday that metal detectors will not be removed. Israel's minister for regional development, Tzachi Hanegbi, said, "The murderers will never tell us how to search the murderers. If [Palestinians] do not want to enter the mosque, then let them not enter the mosque."
The detectors were installed after two Israeli policemen were shot dead by three Arab-Israeli gunmen on July 14.
On Sunday, in Jordan, whose 7 million citizens are of Palestinian origin, a citizen stabbed an Israeli security officer at the Israeli embassy in Amman, according to Jerusalem Post. 
Israel's Foreign Ministry said in a statement that the guard shot the attacker — identified as 17-year-old Mohammed Zakaria al-Jawawdeh — in self defense. Al-Jawawdeh was killed, and another man at the scene, the owner of the compound, was injured and later died.
The guard suffered minor injuries.
The intention behind the attack on the Israeli guard is not known but it could be linked to the ongoing protests in Jerusalem, as Jordan is the Islamic custodian of the site.
Jordan has decided not to allow the Israeli guard to return to his country before an investigation. However, Israel says the Vienna Convention provides for immunity from investigation and arrest of diplomats, and, therefore, the Jordanians cannot investigate the guard.
U.S. President Donald Trump sent his special Middle East envoy Jason Greenblatt to Israel Monday "to support efforts to reduce tensions in the region."
Russia, the U.S., the European Union and the U.N. have called on both sides to show restraint.
The Swedish government issued a statement Sunday, saying it is "deeply concerned" about the situation, according to Jewish Press. "Three world religions have strong roots in Jerusalem, which in 1947 received a special status from the UN … It is now imperative that the parties work together to reduce tension and de-escalate the situation, refrain from provocative acts and violence, as well as preserve the status quo regarding the holy places."