Rafael Cruz Argued With Pastor for Hours Before Surrendering to Christ: 'Christianity Is Hocus Pocus'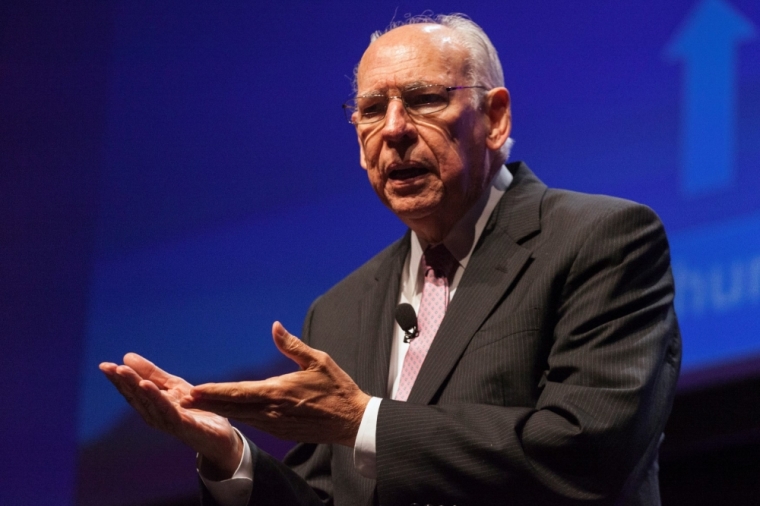 Rafael Cruz, the pastor father of Republican presidential candidate Ted Cruz, detailed on a radio program last Friday how he spent hours arguing with a pastor on the plausibility of Christianity before he broke down and surrendered his life to Christ that night.
It is no secret that in December 1974, Cruz, who was a businessman in the oil industry in Canada at the time and was struggling with deep alcohol issues, left his wife and 3-year-old son, Ted, to go Houston, Texas, and continue his life there without his family.
In an appearance on Michael Brown's radio show "The Line of Fire" on Friday, Cruz, the author of the new book, A Time for Action: Empowering the Faithful to Reclaim America, detailed how he was led to Christ during his time in Houston. Cruz also described the monumental confrontation with Pastor Gaylen Wiley that forever changed his life and, ultimately, the lives of his wife and son.
While he was in Houston, the then-36-year-old Cruz was invited by one of his co-workers to attend a Bible study one night and he agreed to go.
Cruz explained that he was not convinced by the message of the Bible study that night, but he was impressed by the peacefulness displayed in the members of the Bible study.
"What impressed me was they all had problems" Cruz said, when referring to the prayer requests the members gave. "There was a woman that talked about living with her son and her son beating her to get money for drugs. Yet, she had a peace, all of them had a peace, that I couldn't understand. It was that peace that the Bible calls 'a peace that surpasses all understanding.'"
At the conclusion of the Bible study, Cruz said that a woman gave him a booklet on the four spiritual laws and asked him to read it and come back to the Bible study again the following week.
Cruz explained that he read the booklet and returned it to the woman the following Monday and told her that although he read the booklet, Christianity "can't be that easy." Cruz said that the woman didn't quite know how to respond because she was new to the faith but told him to come by her house the next night to meet and talk with the pastor at her church.
"So, I went the next evening and I will tell you, I was a scientist and I spent about four hours arguing with this pastor," the 76-year-old Cruz told Brown. "I mean, I was just sure that I could just tear down all his excuses and tell him that all this Christianity was a bunch of hocus pocus."
It got to be around 11 p.m. and Cruz and pastor Wiley were still going back and forth. It was then that Cruz decided to ask the insistent Wiley one more question.
"After four hours of arguing, the last thing I asked this man is, 'Let me ask you pastor Wiley, what about that man high up in the mountains of Tibet who has never heard of Jesus?'" Cruz recalled. "Very wisely, this pastor did not take that bait. He looked me in the eye and said, 'To tell you the truth, I don't know about that man up in the mountains of Tibet, who has never heard of Jesus. But you heard of Jesus, what is your excuse?'"
"You know, Michael, that statement just hit me like a sledgehammer," Cruz continued. "All of a sudden, the eyes of my understanding were opening and I just fell on my face and surrender my life to Christ and that revolutionized my life."
The following week, Cruz got baptised and then returned to Canada to be with his wife and son. Eventually, the Cruz family moved to Houston, where Cruz began to devote much of his time to the church and studying the Gospel.
"The first next two or three years were really difficult because I basically was devouring the Bible but not paying much attention to my wife," Cruz explained. "I was at the church every time they had a meeting. I only took my wife and son to church on Sundays but every week I was in men's meetings, prayer meetings, visitations. My wife said, you traded the bar for the church and she still felt alone."
"Praise God, I didn't do the same thing with [Ted]. I began pouring the Word of God into my son," Cruz added. "After a couple of years, my wife received the Lord while watching a Christian television program. Our communication was so poor it took two weeks for her to tell me. Then, when Ted was 8 years old, I had been pouring the Word of God into him every night for four years, he surrendered his life to Christ."
During a presidential campaign stop in Tennessee last August, Cruz, the junior senator from Texas, reunited with Wiley and credited him for leading his father to Jesus Christ. Cruz told his supporters that if it were not for Wiley, it is likely that he would have been raised without a father.
Contact: <ahref="mailto:samuel.smith@christianpost.com">samuel.smith@christianpost.com,
@IamSamSmith