Randy White at Odds With Evangelical Credit Union Over Ex-Wife Paula White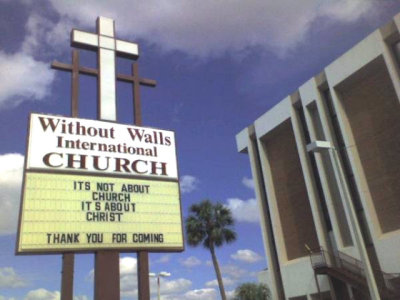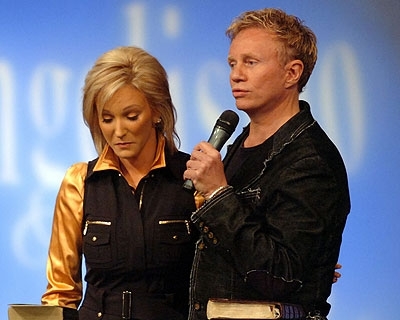 Bishop Randy White and Paula White are apparently at odds over $2 million worth of church equipment he claims the Evangelical Christian Credit Union should not have allowed his former wife to take and use for her own ministry. The claim is part of a multimillion dollar complaint White has filed against the California credit union, which itself has been seeking nearly $14 million in foreclosure proceedings for a Lakeland, Fla., megachurch the once-married couple left abandoned for nearly two years.
Randy and Paula White, who divorced in 2007, founded Without Walls International Church in 1991 in Tampa, Fla., and eventually developed it into one of the nation's largest evangelical Christian congregations. In 2005, they purchased the former Carpenter's Home Church property in Lakeland for $8 million and renamed it Without Walls Central. The 9,600-seat sanctuary struggled to grow its congregation and stopped services in 2011 after one pastor after another resigned. Other issues, such as a Senate finance panel questioning the legitimacy of the ministry's nonprofit status, growing debt, and accusations by former church members that the Whites were preoccupied with money and fame, also contributed to its closure. Without Walls Central's Lakeland campus, which includes an unused school facility, had its electricity disconnected for the second time in two years in March, according to The Ledger.
The Evangelical Christian Credit Union started foreclosure proceedings for the property last October, and was expected to make its case in court in September. The Ledger reports, citing court documents, that the California-based credit union, said to be one of the nation's top lenders, has been trying to collect $13.9 from Without Walls since September 2012 for the Lakeland property. The agency also holds the mortgage for the ministry's main Tampa campus, which has been challenging foreclosure proceedings as well.
In his lawsuit against the Evangelical Christian Credit Union, White claims the lender "acted inappropriately" against Without Walls by allegedly attempting to sabotage a potential sale of the Tampa property. The Ledger reports that it was also alleged that the credit union's CEO and president, Mark G. Holbrook, "improperly encouraged Paula White to take more than $2 million worth of music and video equipment from the Tampa church for use in her own ministries." Without Walls is demanding $23.8 million in damages in the lawsuit.
When asked Tuesday about the allegations, the Evangelical Christian Credit Union's public relations manager, Jac La Tour, told The Chrisian Post, "No comment."
Paula White led nondenominational Without Walls International Church in Tampa up until January 2012, when she was appointed senior pastor of New Destiny Christian Center in Orlando. Bishop White, who had resigned from leadership of the Tampa church in 2009 due to health issues, returned to pulpit in June 2012.
Last year upon his return to the pulpit, White denied reports that he and his ex-wife were bickering, telling the congregation, "That is not the case whatsoever." He claimed that he and Paula White "get along great" and said the New Destiny Christian Church pastor "cares very much for this church."
In January of this year, White announced to the Without Walls congregation his intention to find a new worship facility and sell their 13.05-acre property, currently listed by Sperry Van Ness Commercial Real Estate Advisors for $13,750,000. The property is described in the sale listing as "highly desirable" and "arguably one of the best opportunities in Tampa." Without Walls' 63.49-acre Lakeland campus has also been listed by the real estate company, with a price tag of $14,750,000.
The Evangelical Christian Credit Union, which describes itself as "an alliance of thousands of people and ministries committed to fueling Christ-centered ministry," provides loans and other financial services to ministries. The Brea, Calif., organization is a member of the Evangelical Council for Financial Accountability (ECFA), which includes Mark G. Holbrook among its board of directors. The Evangelical Christian Credit Union claims core assets valued at over $1.2 billion, with total assets under its management exceeding $3 billion.
Reuters reported last year that many churches have been struggling to recover since the 2008 U.S. economic crisis, with congregations in California, Georgia, Florida and Michigan particularly hard hit. The report suggested that during the housing bubble that contributed to the 2007-2009 U.S. recession, many churches took out more loans to fix up or add to their properties with the help of major lenders or the Evangelical Christian Credit Union. Once the recession hit and joblessness rose, church donations plunged right along with the value of these worship facilities.
While charitable donations were up in areas benefiting the arts, the environment and animals, the latest report on 2012 giving from Giving USA confirmed a marked decrease in donations to religious organizations, which one expert suggested was due to Americans no longer viewing religious institutions as the center of their communities.