Religious Freedom Is 'Code Word' for Bigotry, Christian Supremacy, US Civil Rights Commissioner Says
The chairman of the U.S. Commission on Civil Rights says that religious liberty is a code word for bigotry and Christian supremacy, in a government report released Thursday.
Martin R. Castro, whom President Obama appointed to the U.S. Commission on Civil Rights in 2011, remarked in a 307-page report titled Peaceful Coexistence: Reconciling Nondiscrimination Principles with Civil Liberties, wrote that "the phrases 'religious liberty' and 'religious freedom' will stand for nothing except hypocrisy so long as they remain code words for discrimination, intolerance, racism, sexism, homophobia, Islamophobia, Christian supremacy or any form of intolerance."
Although a majority of commissioners voted with him, his opinion is hotly disputed.
In a Friday interview with The Christian Post, Brian Walsh, president of the Washington-based Civil Rights Research Center, said "the majority's report is yet another extreme claim that the civil rights and liberties that religious Americans of all faiths have long enjoyed must be eliminated or restricted to accommodate new and emerging rights."
"It betrays a polarizing mindset that, whenever new rights are in tension with rights guaranteed in the Bill of Rights, the new rights must always trump," he continued.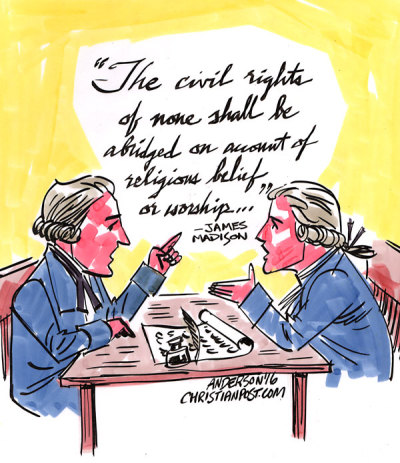 Walsh further noted that he thought the tone of the report was irrationally hostile, and suggests that "the majority may be unaware that freedom of religion and conscience are themselves civil rights — or want to redefine the free exercise of religion extremely narrowly and into oblivion."
In light of current trends, Americans of faith are looking to preserve existing rights and CP asked Walsh if he thinks this visible conflict between anti-discrimination law and cherished religious freedoms can be resolved.
"The primary obstacles are powerful voices who feel they have the upper hand and can achieve a scorched earth political victory that gains them everything they want," Walsh said.
"No one in America is entitled to a scorched earth victory. Our system includes checks and balances and guarantees fundamental civil rights such as religious liberty. These safeguards exist to prevent whoever currently has the greatest political power from retaliating against others," he concluded.
USCCR member Gail Heriot, a former George Mason Law School dean who now teaches at the University of San Diego, dissented from the majority opinion in the commission's report and told the Washington Times that she was "troubled by the growing attitude that somehow anti-discrimination laws trump everything," adding that the world is more complicated than that.
The tension between anti-discrimination law and religious freedoms have reached fever-pitch levels in recent years and has been rubbing the nerves of many Christians raw as florists, bakers, and other small businesses have been targeted under discrimination laws. But such concerns do not appear to be of concern to the commission chairman.
Noting that religious faith was used to support Jim Crow laws, Castro told the Washington Post Friday that today "'religious liberty' efforts are aimed at discriminating against the LGBTQ community … and now it's used to deny the use of public school bathroom facilities by transgender youth."
The "Peaceful Coexistence" report asserts that granting religious exemptions to nondiscrimination laws infringes on civil rights claims based on race, color, national origin, sex, disability status, sexual orientation, and gender identity.
Also argued in the report's recommendations is that the 1993 federal Religious Freedom Restoration Act, or RFRA,"protects only religious practitioners' First Amendment free exercise rights, and it does not limit others' freedom from government-imposed religious limitations under the Establishment Clause."