Religious Freedom vs. Gay Rights: Indiana Bill Seeks Compromise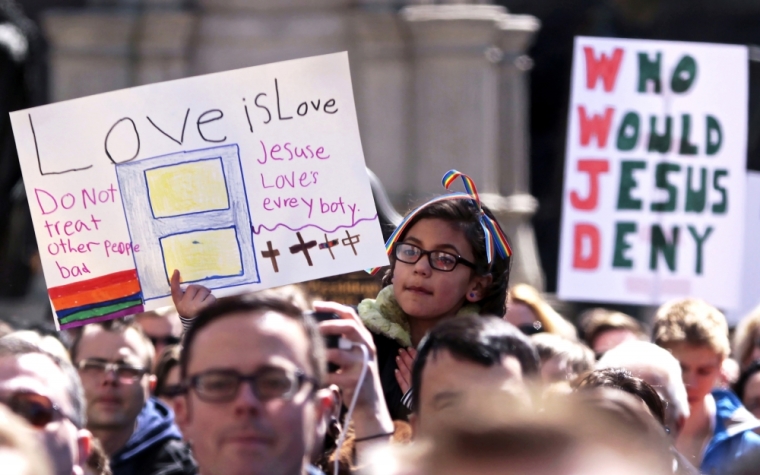 Indiana will soon consider a bill that will implement anti-discrimination measures for LGBT individuals while providing certain exemptions for religious liberty.
Introduced by Republican State Senator Travis Holdman on Tuesday, the new bill will add gender identity and sexual orientation to state antidiscrimination code while including assorted religious liberty exemptions.
According to the bill's synopsis, the proposed legislation will prohibit "discriminatory practices in acquisition or sale of real estate, housing, education, public accommodations, employment, the extending of credit, and public contracts based on military active duty status, sexual orientation, or gender identity."
"Provides protections for religious liberty and conscience.Preempts local civilrights ordinances that conflictwith the state civil rights law," continued the synopsis.
"Provides that the provisions of this act are nonseverable. Repeals a provision that indicates that local entities may adopt civil rights ordinances that differ from state law."
In an interview with The Christian Post, Holdman explained that the bill comes in response to the heated debate over Indiana's recently passed Religious Freedom Restoration Act.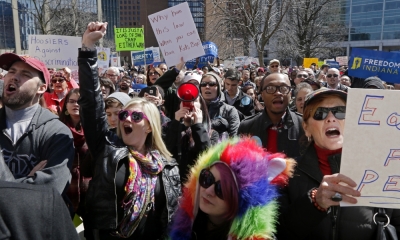 "The majority, conservatives, would be backed into the corner again following the RFRA debate that took place in the session earlier this year," said Holdman.
"The larger issue has to do with religious liberty. I am a conservative Christian myself and felt that we needed to just corner this issue rather than have it dictated."
Holdman said that he was already getting "quite a bit of pushback from the far Right and the far Left" regarding certain parts of the Senate bill.
"Right now I couldn't say if it can pass the Senate or not. Depends on the mood and position of my colleagues in the Republican Caucus," added Holdman.
"We have a 40-10 majority in Indiana and so we're not necessarily too reliant on the minority party to get things passed."
In March, Indiana gained controversy for passing a state-level version of the federal Religious Freedom Restoration Act.
Indiana was preceded by 19 other states and the federal government in passing said legislation, with the federal law being signed by then President Bill Clinton.
Although Indiana's RFRA has no mention of gays or marriage, critics of the law, including various celebrities and major businesses, argued it was discriminatory against sexual minorities.
The backlash has included the large scale protests at the state capitol, denunciations from Apple and Angie's List, and the hashtag #BoycottIndiana trending on Twitter.
Holdman told CP that he hopes to avoid the barrage of misinformation about the state RFRA law by clarifying from the onset what his bill does and does not do.
"We're working hard to put as much information out. FAQ documents, pieces that we can put out to the press folks when they have a question," said Holdman.
"I'm getting some questions coming up on Facebook and its people who clearly misread the bill itself when it comes to restrooms and those kind of things."
Holdman's bill has already garnered criticism from conservatives who are concerned that the exemptions will not be enough to protect conscientious objections to homosexuality and transgenderism and from liberals who consider the bill as not going far enough.
"This bill is a wolf in sheep's clothing, This doesn't protect LGBT people — it is a road map for discrimination against LGBT people," said Jennifer Pizer, law and policy project director at Lambda Legal, according to Indystar.com.
"It aims to guarantee the right of some medical, social services and other institutions to discriminate against married same-sex couples, and to do so with taxpayer dollars. It aims to write separate, lesser protections for LGBT people into state law."
Regarding the criticism he has gotten for the bill, Holdman explained to CP that he had a background in divorce law.
"The judge I practiced in front of a lot said 'if you have both sides … very angry at you, you've done a good job,'" said Holdman.