Rep. Trent Franks Resigns Over Asking Former Staffers to Bear His Child as Surrogate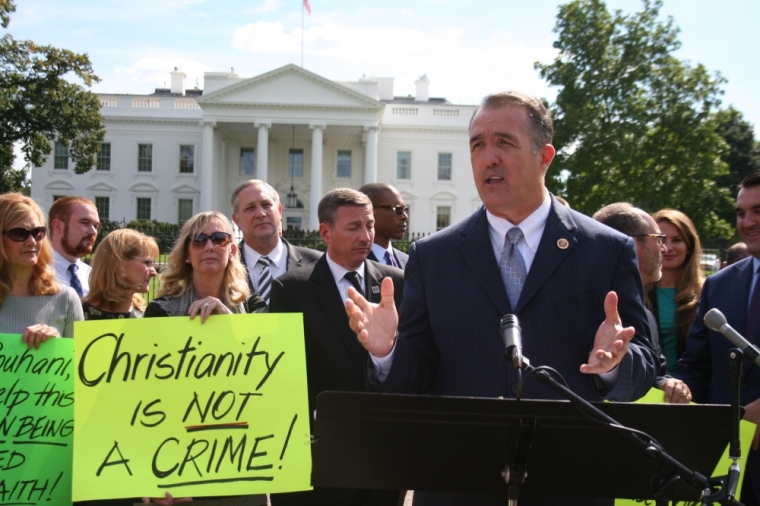 Update: 4:35 p.m. ET: The Associated Press reported late Friday that a former aide to Rep. Trent Franks said the congressman offered her $5 million to act as a surrogate. Politico is also reporting that two former staffers said they weren't sure if Franks was asking to impregnate them through sexual intercourse or by in vitro fertilization.
Rep. Trent Franks, one of the most outspoken pro-life Christian members of Congress, resigned from office Friday to avoid a House Ethics Committee investigation to look into discussions he had with female staffers about surrogacy. He had intended to leave in January but decided to resign today after announcing that his wife is in the hospital.
Franks, a Republican from Arizona, announced Thursday that he would leave office on Jan. 31, 2018, after claims of misconduct surfaced. On Friday afternoon he fast-tracked his resignation, stepping down effective Dec. 8 after his wife was hospitalized in Washington, D.C. Thursday due to an ongoing ailment. 
Franks reportedly had discussions with two former female staffers about surrogacy that made them feel uncomfortable. Three Republicans familiar with the allegations told The Washington Post that he had asked the staffers if they would serve as a surrogate mother for his child.
In a statement, Speaker of the House Paul Ryan said that the allegations of misconduct were "serious," and when he confronted Franks about them he told him that he was going to refer him to the House Ethics Committee, which he did last Friday. Franks did not deny the allegations.
"Due to my familiarity and experience with the process of surrogacy, I clearly became insensitive as to how the discussion of such an intensely personal topic might affect others," Franks said in a statement Thursday. "I deeply regret that my discussion of this option and process in the workplace caused distress." He stressed that he "absolutely never" sexually coerced or attempted to have any sexual contact with members of his congressional staff.
Franks noted that he and his wife have struggled with infertility, and that they have experienced three miscarriages. They had attempted to adopt a few times but the birth mothers from whom they were going to adopt all changed their minds at the last minute and backed out.
Franks and his wife had twins via a gestational surrogate in 2008, whom he described as "a wonderful and loving lady." When the twins were 3 years old they tried again with another surrogate mother, but that pregancy also resulted in miscarriage, his statement explained.
His departure over this particular issue has brought up a subject on which even many pro-life Christians have not given much ethcial consideration.
"If what is alleged is true about Rep. Franks, he will find himself in good company with many in the pro-life community who see nothing wrong with surrogacy. After all, what could be wrong with helping someone have a baby?" said Jennifer Lahl, president of the Center for Bioethics and Culture Network in an email to The Christian Post on Friday.
But there is no way surrogacy should in any way be considered pro-life, she stressed, since the practice exploits a woman's reproductive body and turns children into products to be bought and sold per legal contracts. Lahl, whom CP interviewed earlier this year, has made several documentary films showing how the practice of surrogacy and the fertility industry is exploitative.
"Swedish journalist Kajsa Ekis Ekman's book, Being and Being Bought: Prostitution, Surrogacy and the Split Self connects the dots for what happens when we exploit women's sexual capacity," Lahl added.
"She argues, and I agree, that prostitution and surrogacy are different sides of the same coin. With prostitution, the woman is being used and commodified for sex, but in surrogacy, the woman is being used and commodified for reproduction. Both want, use, need, and exploit women."
In the same way a man wants to have sex with a prostitute but would never dream of having a baby with her, today couples want babies from surrogates but would never dream of having sex with her, she went on to say.
"And in order to get a baby, we use very un-pro-life assisted reproductive technologies, like in vitro fertilization where the loss of embryos is but one very real pro-life concern."
Yet others speculate that there is more to the story than Frank's discussions of surrogacy with his former employees.
Writing on Twitter, CNN's Jake Tapper commented on Ryan's response: "Ryan seems to have seen this as a congressman repeatedly and inappropriately propositioning staffers to bear his children to the point of discomfort and intimidation."
Franks further added, "[W]e are in an unusual moment in history — there is collective focus on a very important problem of justice and sexual impropriety."
"It is so important that we get this right for everyone, especially for victims. But in the midst of this current cultural and media climate, I am deeply convinced I would be unable to complete a fair House Ethics investigation before distorted and sensationalized versions of this story would put me, my family, my staff, and my noble colleagues in the House of Representatives through hyperbolized public excoriation."
Franks has served in the House of Representatives since 2003 and his departure will necessitate a special election. The congressional district he represents, Arizona's eighth district, stretches Phoenix and leans Republican. President Donald Trump carried the district by 21 points in the 2016 election.