Republicans, Conservatives, Evangelicals Increasingly Opposed to Death Penalty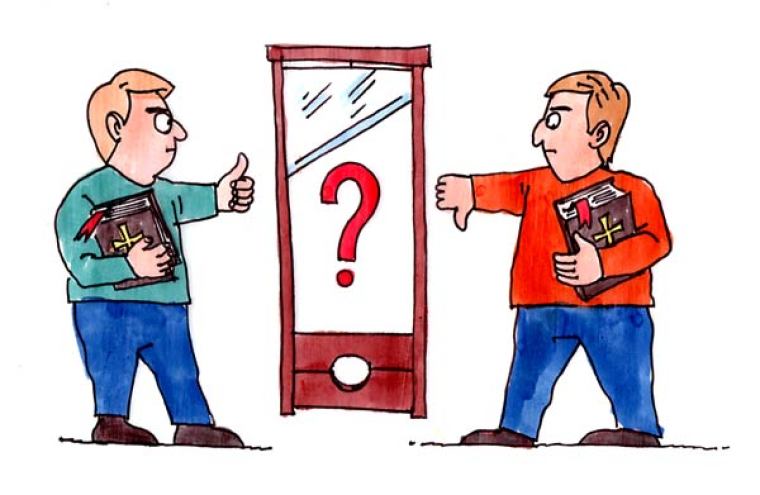 On October 25, I spoke at a press conference to announce the release of a report that shows Republican state legislators are sponsoring death penalty repeal bills at record levels. While this is exciting news, the growing conservative opposition to capital punishment started several years ago, and the change extends far beyond state capitols.
In June 2010, I helped establish a statewide network in Montana called Conservatives Concerned about the Death Penalty. It was a coalition of conservatives who believed that capital punishment violated our principles of valuing life, fiscal responsibility, and limited government.
Our launch at the Montana GOP Convention was the first time that many Republican activists had been exposed to the numerous reasons why conservatives should rethink the death penalty. We enjoyed a wonderful reception, and the following year, we nearly repealed Montana's death penalty. One of the bill's sponsors was a well-known Republican named Roy Brown. At the time, he was one of a super minority of Republicans who sponsored repeal bills in the U.S. That's quickly changing.
By late 2012, with interest extending far beyond Montana, activists asked that I establish a national Conservatives Concerned about the Death Penalty (CCATDP). I was excited to help, and in 2013, CCATDP officially launched at the Conservative Political Action Conference. Some of our earliest supporters were conservative icons, including Jay Sekulow, Richard Viguerie, and Dr. Ron Paul. Our network has been growing ever since.
It was once considered unusual for a Republican, like Roy Brown, to sponsor a death penalty repeal bill. Yet, it has become commonplace today. Since our launch, Republicans have been sponsoring legislation to end capital punishment at record rates. In 2013, there were 20 GOP repeal champions, and in 2016 there were 40, accounting for more than 30% of all of the country's death penalty repeal sponsors.
We created CCATDP in response to Conservatives' desire to share their views on this life or death issue. In response, CCATDP helped fan the flames of a national discussion that has led to this powerful leadership from the right.
Evangelicals are another large part of this change. In 2015, the National Latino Evangelical Coalition became the first prominent Evangelical organization to adopt an anti-death penalty position. Later in 2015, the nation's largest Evangelical organization, National Association of Evangelicals, abandoned their long-standing pro-death penalty position. High-profile Evangelical leaders are also voicing their capital punishment concerns with increasing frequency.
As an Evangelical, I understand why so many are turning against the death penalty. Humans are not disposable objects that are undeserving of God's greatest gift – life. God made us in His image, and despite our actions, we are the recipients of his love and mercy. Only God should be permitted to take a life. Moreover, I also worry about death row inmates' souls. I believe that no person is beyond God's love, and every human, regardless of their actions, is capable of attaining redemption. By executing people, we limit the possibility for them to achieve salvation.
While I have always felt a moral call to end the death penalty, when I began this work in 2009, I was unaware of capital punishment's many practical failures and how it conflicted with my conservatism. I was shocked to learn how error-prone, inefficient, and ineffective it was.
To date, at least 160 individuals have been wrongly convicted and sentenced to die. It's a financial albatross that costs far more than alternative sentences and has even been the direct cause of tax increases. Despite these massive expenses, it fails to keep Americans safer. Due to the mandated, murky legal proceedings, murder victims' families are forced to live through years of painful uncertainty. Much of this anguish could be avoided by seeking a sentence with a less complex legal process.
Given what we know about the death penalty, it's clear why so many Evangelicals are turning against it and why there is a surge of Republicans legislators working to end it. I believe this rising conservative momentum to repeal the death penalty will continue. I'm honored to be working alongside the Republican and Evangelical leaders working to make the death penalty a thing of the past.
Heather Beaudoin is a national coordinator for Conservatives Concerned About the Death Penalty and responsible for outreach efforts to Evangelicals. Heather previously worked for the Montana Abolition Coalition, the Helena Pregnancy Resource Center, the National Republican Congressional Committee in Washington DC, and the Michigan Republican Senate Majority Leader.