Rick Warren: If Marriage Magnifies Your Problems, Then Why Did God Create It?
Rick Warren: If Marriage Magnifies Your Problems, Then Why Did God Create It?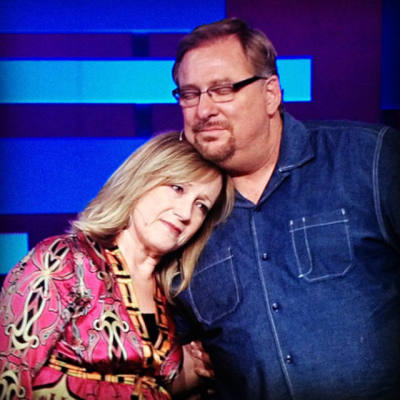 If marriage doesn't fix your problems but rather magnifies them, then why did God create it in the first place, Pastor Rick Warren questions.
Warren, founding pastor of Saddleback Church in Orange County, California, wrote this week that God created marriage to serve as a connection between man and woman.
Therefore, Christians shouldn't confuse marriage with an ultimate solution to all of their problems, because instead, saying "I do" will likely magnify the problems you already had as a single person, Warren writes.
When we marry, we are able to see the full image of God, the pastor continues, as both men and women offer partial perspectives to the entire picture.
"[…] nobody holds the full image of God. Women get part of it, men get part of it, and we need each other," the megachurch pastor says.
He points specifically to Mark 10:6-9 NLT, second edition as evidence for God's plan for marriage. The verse reads: "God made them male and female from the beginning of creation. This explains why a man leaves his father and mother and is joined to his wife, and the two are united into one. Since they are no longer two but one, let no one split apart what God has joined together."
This verse in particular points out three interesting themes about marriage, namely that marriage is a part of God's plan for us, marriage is permanent, and marriage is meant for connecting men and women to each other to serve in a different way than they can individually.
Warren and his wife, Kay, who have been married for over 40 years, have spoken on their personal marriage journey before, telling LifeWay Christian Resources that their first two years of marriage were the most difficult, and the only way they got through them was through their faith in God, as well as agreeing that divorce was not an option.
"Our first two years of marriage were the most difficult," Warren told the Christian publisher in a previous interview. "They were really tough. And we would have divorced, except a) we were both committed to Jesus Christ and b) we both agreed divorce is not an option."
Kay added that initially, during times of difficulty in their marriage, Rick and her could not see God's plan working through them.
"We certainly were not thinking, Oh, God is using this to make us holy. We were saying, 'God. What's going on? We love You, we love each other, we're trying to follow all the rules, and we try to do everything [right] - and this is our reward?' There was no sense of 'God is doing something great here' as much as it was survival," she said.
Kay added that despite difficult times, Christian couples must always remember that there is hope for their marriage, with God's help.
"[…] I know what it feels like to believe there is no hope; it will never be different; we are doomed to live this way; things are unbearable; and there's no way out. I do know that. I don't know anyone else's exact circumstances, but I am here to tell you God has an answer, and there is definitely hope," Kay said.
Saddleback Church offers numerous ministries for healthy marriages, including Keeping the Marriage Alive workshops, Married Life Couples Ministry, and Fighting For An Awesome Marriage.