Rick Warren on What It Means to 'Throw Away Your Life'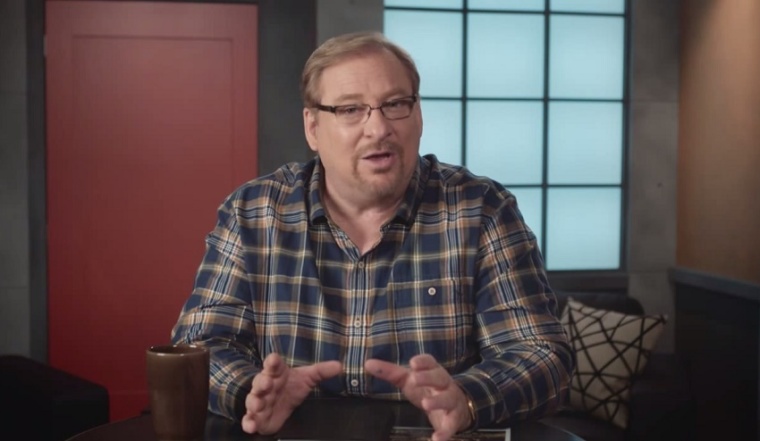 What does it mean to "throw away your life?" It means to surrender your life to Jesus Christ, says Rick Warren, senior pastor of Saddleback Church in Orange County, California.
Citing Mark 8:35, Warren explains in his daily devotional that to "throw away your life," is to "submit yourself to God for his purposes."
"Only those who throw away their lives for My sake and for the sake of the Good News will ever know what it means to really live," the verses read, in part.
Pointing to Romans 6:13, which says to: "surrender your whole being to Him to be used for righteous purposes," Warren encourages believers to "Live a life of purpose."
"Be driven by purpose. Give yourself to God. Let him use you for his purpose. You'll get the adventure of a lifetime!" he exclaimed.
Warren adds that once believers lay down their lives for God and others, He will give them everything they need, as seen in Matthew 6:33: "Seek the Kingdom of God above all else, and live righteously, and he will give you everything you need."
The best way to begin living this surrendered life for God is to care about others, just as God does.
"What does He care about most? People. God doesn't care about money. God doesn't care about fame. God doesn't care about a lot of things we care about. When you surrender your life to God and make the most important things in your life the things that are most important to God, He will take care of all your needs," the evangelical pastor concludes.
Evangelical preacher Joyce Meyer has also spoken on the importance of caring about others when living a life in Christ, saying in a recent guest sermon for Life.Church in Oklahoma City, Oklahoma, that above all else, Jesus cares about how people treat each other.
This is because God's love flows through us and needs to keep flowing to others; otherwise, it will stay stagnant and die within us.
"God's love flows to us, it ministers to us, but then it has to flow out of us, otherwise it becomes like a stagnant pool of water and our lives just begin to stink," Meyer, founder of Joyce Meyer Ministries, said during her recent sermon.
Meyer notes that It's also important for Christians to simplify their understanding of love, saying: "Love is not a sermon, it's not a theory, it's not a book, it's how we treat people."
The true test of love, Meyer adds, is how we treat those from whom we receive nothing in return.
Loving others is the essence of being Christian, Meyer adds: "The only thing that's going to convince the world that Jesus is real is if we who call ourselves Christians can learn to walk in love everywhere we go."