Rick Warren Speaks Out as a Pastor and Father Against California Bill Allowing Terminally Ill People to End Their Lives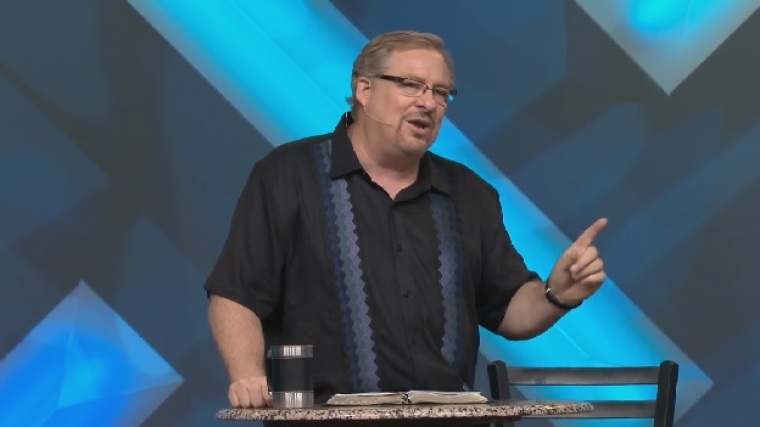 Pastor Rick Warren of Saddleback Church and other faith groups have spoken out against California Senate Bill 128, which if passed, would give terminally ill people in the state the right to end their lives. Warren said that he opposes the bill both as a theologian and as the father of a son who died by suicide due to mental illness.
"I oppose this law as a theologian and as the father of a son who took his life after struggling with mental illness for 27 years," Warren said at a conference on Saturday, referring to his son, Matthew, who took his own life on April 5, 2013.
"The prospect of dying can be frightening," he added while speaking at a panel, the OC Register reported. "But we belong to God, and death and life are in God's hands. ... We need to make a radical commitment to be there for those who are dying in our lives."
Senate Bill 128, also known as the End of Life legislation, has been opposed by the Roman Catholic Diocese of Orange, as well as other faith groups who say it goes against Christian teaching.
In a document explaining its opposition, the diocese asked:
"The claim to a right to assisted suicide raises many questions, not the least of which is this: if there is a 'right to assisted suicide,' why would such a right be restricted only to those in the throes of terminal illness? What about the elderly person suffering a slow but non-terminal decline? What about the adolescent or young adult in the throes of depression, demoralization, or despair? What about the middle-aged man who is alone and simply tired of life?"
The diocese added: "While laws may initially erect fences around the practice of assisted suicide — having six months to live, being over the age of 18, having mental capacity, etc.— these 'safeguards' will eventually be unmasked as arbitrary."
Compassion and Choices, a nonprofit group advocating for the law, said, however, that terminally ill people deserve the right to choose the time of their death.
Toni Broaddus, California campaign director, argued that every dying person "should have access to medical options consistent with their own values and beliefs."
"We respect all points of view, and that's why we support options at the end of life," Broaddus added.
The debate over the proposed law has gained momentum in the wake of UC Irvine graduate Brittany Maynard deciding to move to Oregon to end her life, after she was told she only had six month to live after being diagnosed with an inoperable brain tumor. She died on Nov. 1, surrounded by family members and friends.
Warren asked for prayers from Christians this Eater Sunday, which marked the second anniversary of his youngest son's death.
The Saddleback Church pastor wrote on Facebook: "On this Easter week two years ago, my son Matthew ended his life, and his 27-year battle with mental illness. That day, April 5th, coming 5 days after Easter, was the worst day of my life," he said.
"On a day where everything in me wants to be quiet and low-key, be alone at home with my Lord and my wife and kids, and just get through the day without having to interact or be 'on' or celebrate anything ... instead I will be leading multiple Easter services on the biggest Christian day of the year."
Following his son's death, Warren launched a mental health ministry and has been raising awareness for mental health issues.