Rick Warren: This Is God's No. 1 Tool for Character Building (for Most)
Rick Warren: This Is God's No. 1 Tool for Character Building (for Most)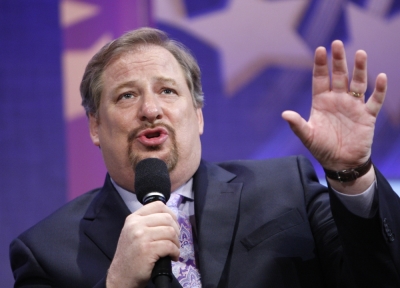 A married person's number one tool for being more Christ-like is their spouse, says evangelical pastor Rick Warren.
Warren, who oversees Saddleback Church in Southern California, said in a devotional this week that God has given people the gift of a spouse to help them perfect their character and make them closer to Him.
"God created marriage for the perfection of our character. It is in relationships that we learn to be unselfish and loving. And no relationship has greater impact on your life than marriage if you get married," the pastor writes, noting in the devotional that this is true if someone chooses to marry.
Warren goes on to say that the purpose of life is to grow up and realize that "it's not all about you," and there's no better way to live a selfless, loving life than through undying sacrifice for your spouse.
"[…] real happiness comes in giving your life away and being unselfish and serving and loving," Warren writes, suggesting that learning the skill of selflessness is "the most important thing in life because God is love, and he wants you to become like him. He wants to make you like Jesus Christ. He wants you to build character."
For married people, the most important God-given tool for building character is their spouse, Warren says, because "every day you get hundreds of opportunities to not think about yourself but instead about the other person."
By showing respect and love, Christians can move closer to Christ daily through serving their spouse, Warren adds.
Warren has been married to his wife, Kay, for over 40 years. The influential evangelical couple co-founded Saddleback Church in 1980, and have since seen the congregation grow to over 22,000.
Rick and Kay have previously discussed their marriage with LifeWay Christian Resources, with the couple explaining that the first few years of their relationship were extremely difficult, as the two fought frequently and spent the majority of their engagement apart, working as missionaries in different parts of the world.
Rick tells LifeWay that he believes God worked through their initial struggle as a couple to create something good.
"The Bible says you are shaped to serve God, and one of His purposes is ministry. Your greatest ministry, without a doubt, comes out of your greatest pain. God never wastes a hurt," Rick said.
"Second Corinthians 1 says God takes us through problems and comforts us so we can then turn around and comfort others. Well, now we know why we had all those marriage problems. God gave us a ministry of helping thousands of other marriages. And we decided from the very first that we were never going to fake it, that we weren't going to pretend we had this perfect marriage, but that people would grow better out of our weaknesses and out of our authenticity," the megachurch pastor added.
Kay and Rick Warren noted in their LifeWay interview that the key to a successful marriage is leading one of purpose, where both spouses work through their marriage to serve and honor God.