Rick Warren's 'Daily Hope' Nat'l Radio Program Goes Live Easter Monday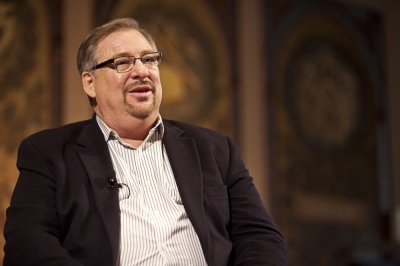 Pastor Rick Warren of Saddleback Church in Lake Forest, Calif., has finally decided to launch a daily radio program after three decades in ministry, citing as motivation "three deep convictions" he feels God has "burned" into his heart.
As the megachurch pastor and The Purpose Driven Life author shares in an explanatory video, the reasons for starting the daily radio program primarily are about equipping Christians all over the world to spread the Gospel and drawing attention to issues of religious freedom and moral malaise in the U.S.
"I am deeply concerned about the direction of our nation and the decay of our culture. If we don't have a spiritual awakening in our nation, I fear for the future of our country," Warrens says in the video on the "Daily Hope" Web page.
"With the coarsening of our society, there is a clear loss of civility, and more than ever before, people need to hear a message of hope found in the Gospel," the megachurch pastor added in a released statement. He also mentioned the struggling economy, natural disasters, school shootings and gridlock among political leaders as reasons why people may be especially hungry to hear "a message of hope found in the Gospel."
The "Daily Hope" radio program will also be used to advance Warren's global evangelization agenda to reach 2,900 unengaged tribes and people groups who have not yet heard the Gospel.
"The 'Daily Hope' radio program can expose listeners to the potential of involving themselves or their church in the PEACE Plan to help accomplish our '20/20 Vision' to reach every last tribe with the Gospel and a church by the year 2020," said Warren.
The evangelical Christian pastor also intends to use the program as a platform speak out on what he sees as the biggest civil rights issue facing Americans today, and possibly for the next decade.
"I am deeply concerned about the erosion of our first right of religious liberty in America, which needs to be protected," said Warren. "On every front – school campuses, businesses, hospitals and even churches – secularists in government are increasingly trying to limit, undermine and even outlaw historic protections of our religious freedoms..."
The "Daily Hope" program, which starts its first broadcast April 1, will run Monday-Friday for 25 minutes and feature "a practical, applicable and meaningful message" as well as 60-second teaching spots addressing timely issues and topics.
Cities to get first access to the "Daily Hope" broadcasts are listed online along with the radio stations and their airing times. Listeners can also tune in via Sirius XM Satellite Radio's Family Talk Channel or streaming media at RickWarren.org.
Warren, who celebrated last year the 10th anniversary of his best-selling book The Purpose Driven Life: What On Earth Am I Here For?, explained that he was initially reluctant to take on a daily radio program because he felt it was more important to support other local churches rather than build a nationwide ministry. He also didn't want to become a "celebrity."
"I'm a fourth-generation pastor and all I wanted was to pastor and love a group of people at a local church and I didn't want the notoriety or attention of a national ministry, but the publication of the book The Purpose Driven Life destroyed my anonymity, and my second reason for staying off the radio. So I figured that God intended me to use this new influence as a stewardship," he explained.
Saddleback Church, which averages 22,000 worshippers weekly, was founded in 1980 by Rick and Kay Warren and is one of the five largest churches in the U.S.