Rob Pattinson, Kristen Stewart Split? Actor Would 'Rather Be Friends'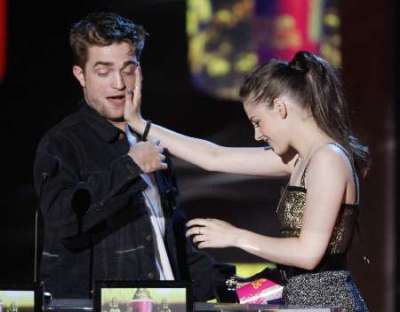 Rob Pattinson and Kristen Stewart have reportedly split up after four years together, a new report claims.
The "Twilight" couple, who briefly split up in 2012 after Stewart's cheating scandal, was allegedly fighting more over trust issues and Pattinson, 26, finally pulled the plug, The Sun U.K. reports. Pattinson was spotted alone on the red carpet at Sunday night's Golden Globes and a source claims that the actor had broken up with Stewart, 22, just hours prior.
"She flew to LA and was supposed to be Rob's date for the Golden Globes, but he told her he wants to cool it off," a source told The Sun.
"He loves her but would rather go back to being good friends so they can rebuild their trust and focus on work after Twilight," the insider went on. "Kristen's upset but understands. She shouldn't have pushed him to reconcile after her infidelity. She's hoping he'll come round and time will be a great healer."
In July, Stewart admitted to cheating on Pattinson with her "Snow White & The Huntsman" director Rupert Sanders, 41. The pair took time out and months later reconciled, but Pattinson's close friends were reportedly unimpressed with the reunion.
"[Rob] was getting so much pressure to ditch her," the source explained. "His friends told him to focus on his career and said she was wrecking his chances."
Stewart, who described her tryst with Sanders as a "momentary indiscretion," is said to be heartbroken over Pattinson's decision to end the relationship.
The actress is now said to be planning a move to New York while Pattinson will reportedly stay in Los Angeles.
"[Kristen] feels people leave her alone there and she has a bit more peace," the source said.
On Thursday, just days before the Globes, a source revealed that Pattinson was contemplating breaking up with Stewart.
"Things with them aren't good. They've been fighting a lot," a friend of Rob's reportedly told Life & Style magazine. "Rob isn't happy. It's just a matter of time before he ends this."
Robert Pattinson Devastated Over Kristen Stewart Cheating