Rock 'N' Roll Icon Alice Cooper: 'I Teach Bible Study' (Video)
Rock 'N' Roll Icon Alice Cooper: 'I Teach Bible Study' (Video)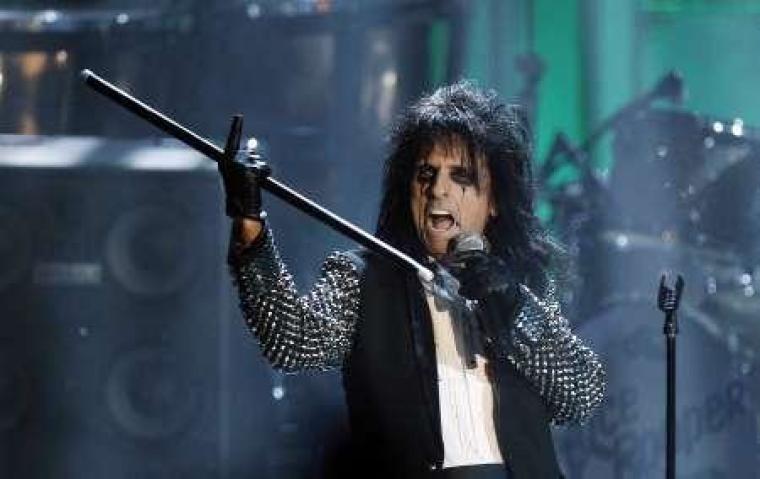 Veteran rock musician Alice Cooper shared recently that he volunteers as a substitute Sunday school teacher at his local church.
The 66-year-old "Poison" singer made his mark in music during the rock 'n' roll era as "The Godfather of Shock Rock" mainly due to his gory stage shows which featured ghastly props including guillotines, electric chairs, fake blood and boa constrictors.
Five decades later Cooper, born Vincent Damon Furnier, still performs under his world-famous stage name but in far-less shocking settings, perhaps to honor his Christian faith.
"I teach Bible study, I'm sort of a substitute," Cooper told Nati Celebrity Services vice president Chris Riddick at the celebrity flag football game at the Super Bowl in Arizona on Saturday, jokingly adding "if nobody shows up, I'm the bottom-of-the-barrel guy."
Cooper, a born-again Christian and reformed alcoholic, regularly attends the interdenominational church called Camelback Bible Church in Paradise Valley, where he sometimes teaches Bible study.
The singer is the son of a lay preacher and was raised in the church as a child. Although he has always been a believer, he once acknowledged that he wasn't a Christian during his rock star years "because I wasn't living the lifestyle," according to the Independent UK.
"You should see the look on people's faces. 'Alice Cooper teaching Bible class? But he's the spawn of the Devil!'" he once told The Sun UK. "Surely people get it by now ... Alice is just a character. … Alice hates going to church, but I go every Sunday."
Cooper, who has 26 albums under his belt, isn't alone in his dabbling into ministry. His wife, Sheryl Goddard, with whom he shares three children, co-founded a women's aerobic ministry at Camelback.
"Alice and Sheryl are so committed to each other and to their kids," Lisa Savale, one of Sheryl's closest friends, once said. "I think part of that is their faith."
On Saturday, Cooper joined Hollywood actor Johnny Depp to perform at Duesenberg Guitar company's NAMM party at Servite Catholic High School in Anaheim, California. The pair sang a bunch of old rock 'n' roll classics such as "Brown Sugar" and "School's Out" to help raise funds for charity.
In 2012, Cooper opened the Brennan Rock & Roll Academy in Phoenix, which is a music center for teens that is designed to keep them off the streets.
Regarding the Bible, Cooper once said that he believes in the Old Testament as well as evolution and he believes that God created the world in seven days.