Roy Moore Pranked by Comedian Sacha Baron Cohen With 'Pedophile Detector'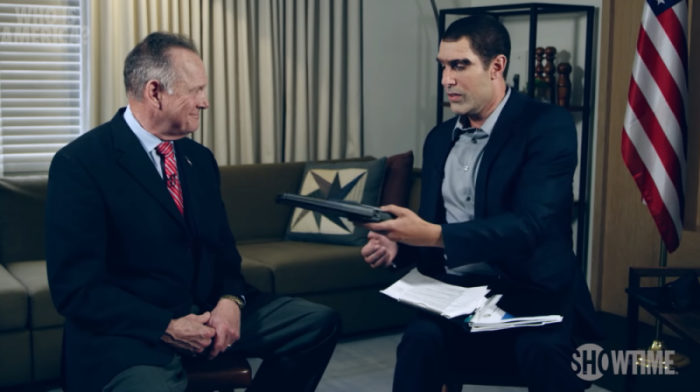 Former Alabama Supreme Court Chief Justice Roy Moore was recently the subject of a prank interview by comedian Sacha Baron Cohen for his Showtime program "Who is America?"
A clip of the interview posted to YouTube on Sunday shows Cohen playing a character purporting to be an Israeli antiterrorism expert named Erran Morad.
Before the interview begins, the video takes note of the many allegations that surfaced against Moore during his 2017 Senate bid accusing him of sexual misconduct with underage girls.
During their brief interview, Morad claims that Israel has developed a device that can detect underground tunnels. The same device can detect pedophiles through a special sex offender enzyme they secrete, he claimed.
"Sex offenders and particularly pedophiles secrete an enzyme for DDHT, which is actually detectable," Cohen tells Moore. "It is three times the level as non-perverts, so the phrase 'sweating like a rapist' is actually based on science."
Cohen feigns shock that the device appears to work on Moore. Moore first chuckled at the joke but became more upset as Cohen continued. After declaring his fidelity to his wife and innocence regarding any sex abuse allegations, Moore walked off the interview in protest.
Posted to YouTube on Sunday by the official Showtime account, as of Tuesday morning the video has gotten more than 2.2 million views and 27,000 likes, as well as about 1,300 dislikes.
Last November, Moore weathered a series of sexual misconduct allegations accusing him of preying upon teenage girls while he was in his thirties.
As the allegations were released, Moore was running as a candidate for U.S. Senate seat vacated by Jeff Sessions when he became Attorney General.
While initially leading his Democrat opponent Doug Jones and projected to win by a large margin, the allegations effectively cost Moore the election.
In a statement released earlier in July, Moore acknowledged Cohen's mock interview, labeling it an "illicit scheme" and threatening legal action if the interview aired.
"I am involved in several court cases presently to defend my honor and character against vicious false political attacks by liberals like Cohen. If Showtime airs a defamatory attack on my character, I may very well be involved in another," stated Moore.
"As for Mr. Cohen, whose art is trickery, deception, and dishonesty, Alabama does not respect cowards who exhibit such traits! It's been a long time since I fought for my country in Vietnam. I'm ready to defend her again!"
Last week, Moore filed legal action against the PAC group Highway 31 and other individuals for their efforts last year to advance the allegations against the former candidate.
"We all know that politics have become very dirty, and no better example can be found than what Highway 31, a so called super PAC, did to Judge Roy Moore in the senate race of 2017," said Melissa Isaak, Moore's attorney, in a statement posted to Facebook last week.
"It seems that nobody ever stands up to political corruption or the biased media, but that ends today. The Highway 31 shopping mall ad was a political hit job, and the people behind this ad acted intentionally and with reckless disregard for the truth."