Roy Moore's Suspension Over Gay Marriage Resistance Upheld by Alabama Supreme Court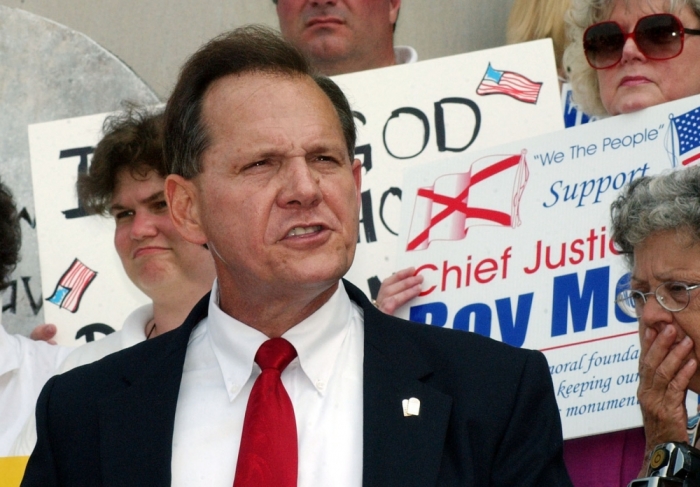 Alabama's highest court upheld the suspension of Roy Moore for his refusal to allow state probate judges to issue marriage licenses to same-sex couples.
The state supreme court ruled Wednesday that a Court of the Judiciary decision to suspend Moore last September was justified.
"The record before this Court supports the findings of the Court of the Judiciary; therefore, we cannot conclude that its judgment is plainly and palpably wrong, manifestly unjust, or without supporting evidence," read the Per Curiam opinion.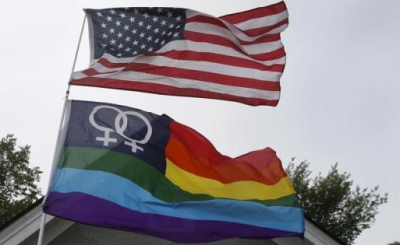 "Because we have previously determined that the charges were proven by clear and convincing evidence and there is no indication that the sanction imposed was plainly and palpably wrong, manifestly unjust, or without supporting evidence, we shall not disturb the sanction imposed."
Known by some as the "Ten Commandments Judge" for his refusal in 2003 to remove a Decalogue display from the rotunda of an Alabama courthouse, Moore garnered recent controversy for impeding the legalization of gay marriage in Alabama.
As chief justice of the state supreme court, Moore ordered that Alabama probate judges not issue marriage licenses to same-sex couples after a federal judge struck down the state's ban on gay marriage.
Last September, the Alabama Judicial Inquiry Commission suspended Moore for the remainder of his term for his attempt to halt gay marriage in the state, citing multiple ethics complaints, all of which the state supreme court upheld.
During the proceedings, Moore was represented by the Liberty Counsel, a conservative law firm based in Orlando, Florida.
In a statement released Wednesday, the Liberty Counsel denounced the state supreme court's ruling, labeling Moore's suspension a "politically-motivated punishment."
"This opinion and the entire case against Chief Justice Moore is a tragedy. For the first time in the history of Alabama, a justice has been disciplined for issuing an Administrative Order," stated Liberty Counsel Chairman Mat Staver.
"Under this system, no judge is safe to issue orders or render dissents. The system has to change, and politics should be removed from judicial decision making and disciplinary actions."
Despite the suspension, there is a chance that Moore may run for governor in the state's December special election, according to al.com.
"Moore has run for governor twice before — losing in the Republican primaries in 2006 and 2010," noted al.com.