Russell Moore, Samuel Rodriguez Sign Statement Opposing LGBT Discrimination Laws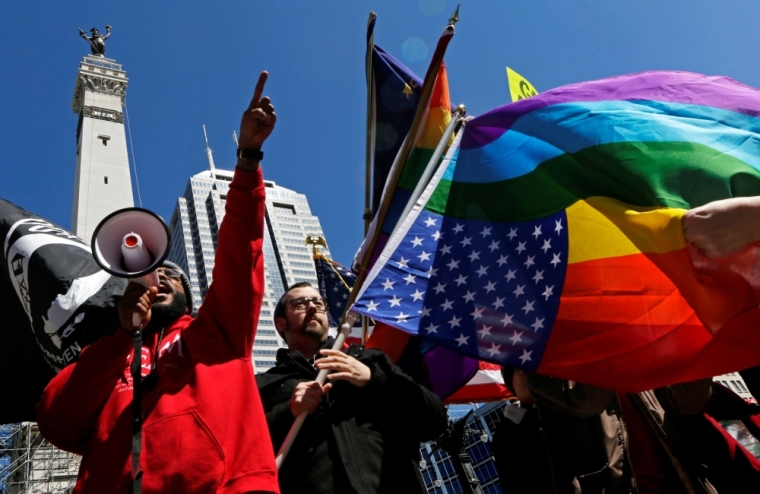 Over 75 prominent prominent religious leaders and scholars have signed a statement against government coercion that is discriminatory towards biblical views on marriage, gender and sexuality.
On Wednesday, The Colson Center for Christian Worldview released a formal statement titled "Preserve Freedom, Reject Coercion," which opposes efforts in recent years "to add sexual orientation and gender identity as protected classifications in the law."
The statement was signed by a number of leading scholars and religious minds, including Southern Baptist ethicist Russell Moore, Heritage Foundation's Ryan Anderson, Princeton law professor Robert P. George, author and radio host Eric Metaxas, the president of Southern Baptist Theological Seminary Albert Mohler and National Hispanic Christian Leadership Conference president Samuel Rodriguez.
"We affirm that every individual is created in the image of God and as such should be treated with love, compassion, and respect. We also affirm that people are created male and female, that this complementarity is the basis for the family centered on the marital union of a man and a woman, and that the family is the wellspring of human flourishing," the statement reads. "We believe that it is imperative that our nation preserve the freedoms to speak, teach, and live out these truths in public life without fear of lawsuits or government censorship."
As a number of states, local governments and the federal government have created legal discrimination protections for gender identity and sexual orientation, such protections have seemingly come in conflict with the religious liberties of faithful Christians who hold the belief that marriage can only be the union of one man and one woman, and the belief that there are two genders, male or female, which is fixed at birth.
"These unnecessary proposals, often referred to as SOGI policies, threaten basic freedoms of religion, conscience, speech, and association; violate privacy rights; and expose citizens to significant legal and financial liability for practicing their beliefs in the public square," the statement explains. "In recent years, we have seen in particular how these laws are used by the government in an attempt to compel citizens to sacrifice their deepest convictions on marriage and what it means to be male and female — people who serve everyone, regardless of sexual orientation or gender identity, but who cannot promote messages, engage in expression, or participate in events that contradict their beliefs or their organization's guiding values."
There have been a number of cases throughout the United States in which Christians have been punished by governments because they act in accordance with their beliefs on marriage and sexuality.
For example, Christian bakers in Oregon were fined $135,000 by the state's Bureau of Labor and Industry because their decision to decline to participate in a gay wedding violated the state's discrimination laws. Likewise, a Christian grandma florist in Washington was fined for her refusal to service the gay wedding of a longtime customer who she has willingly served in the past.
LGBT discrimination laws have had an effect in multiple other areas of society besides wedding vendors. For example, faith-based adoption agencies, such as the Catholic Charities of the Boston Archdiocese, have been forced to close down because they refuse to place children with gay couples because of their belief that children need to be raised by a mom and dad.
The Family Research Council recently compiled a list of 12 recent cases where Christians were punished for their views on marriage.
"Under SOGI laws, people of good will can face personal and professional ruin, fines, and even jail time, and organizations face the loss of accreditation, licensing, grants, contracts, and tax-exemption," the statement explains.
"SOGI laws empower the government to use the force of law to silence or punish Americans who seek to exercise their God-given liberty to peacefully live and work consistent with their convictions," the statement continues. "They also create special preference in law for categories based on morally significant choices that profoundly affect human relations and treat reasonable religious and philosophical beliefs as discriminatory. We therefore believe that proposed SOGI laws, including those narrowly crafted, threaten fundamental freedoms, and any ostensible protections for religious liberty appended to such laws are inherently inadequate and unstable."
The declaration urges all SOGI laws to be rejected.
"We join together in signing this letter because of the serious threat that SOGI laws pose to fundamental freedoms guaranteed to every person," the statement asserts. "America has stood as a beacon of liberty to the world because our Constitution protects people's freedom to peacefully — and publicly — work and live according to their convictions."