Russell Wilson Converting Packers Fan Into Seahawks Fan?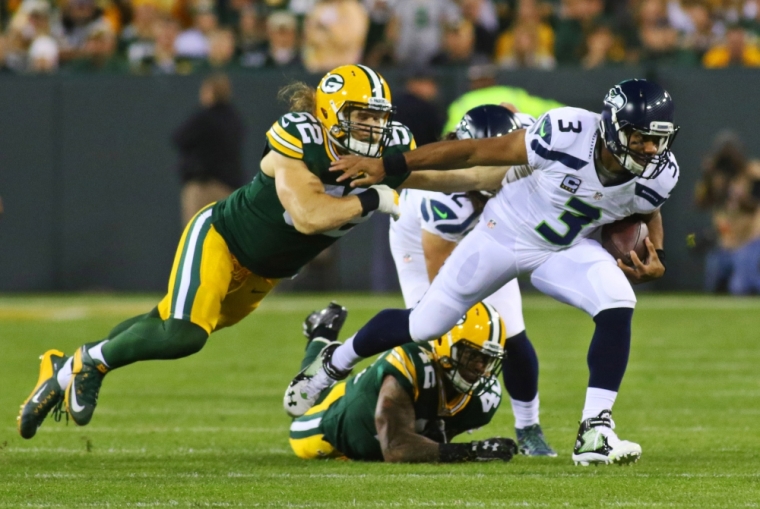 Russell Wilson may be trying to convert a Green Bay Packers fan into a Seattle Seahawks supporter after volunteering at the Seattle Children's Hospital.
Wilson, the 27-year-old Seahawks quarterback, volunteers at the hospital where he poses for pictures with sick children on many Tuesdays. It didn't seem to bother the QB that one of those children wore a Packers jersey, a team that Wilson has engaged in public disagreements with in the past.
"Konnor was a Packers fan @SeattleChildren, but now is a changed man! Go @Seahawks #StrongAgainstCancer," Wilson wrote on Instagram.
Wilson, who's known for speaking about God's favor on his team, was chided by Packers QB Aaron Rodgers last year for suggesting that God cares about the outcome of a football game. Although Rodgers and Wilson are both Christians, they first found themselves on opposing sides of the faith and football debate.
After the Seahawks beat the Packers in the NFC Championship game last year, Wilson said God was behind the victory.
Rodgers, however, argued that God doesn't determine wins and losses in professional sports.
"I don't think God cares a whole lot about the outcome," Rodgers previously said during an interview on ESPN radio. "He cares about the people involved, but I don't think he's a big football fan."
But during the interview with ESPN, Wilson asserted, "God cares about football. I think God cares about everything He created."
Wilson responded to Rodgers' claims that "God was a Packers fan" by glorifying the Almighty.
"I think that in terms of that comment in all that, you know everybody has a right to their own opinion. I know for me, I'm just grateful that God has given me the opportunity to play the great game of football. I'm so grateful," Wilson told reporters, according to NBC Sports.
"I know one of the things that my parents always taught me is just continue to reign humble in your victories and your losses. And I think that's just the thing that I'm grateful for, just to be able to play the game of football, and I love it. So like I said, everybody [is entitled] to their own opinion."
During an interview with Pastor Miles McPherson at The Rock Church in San Diego, California, in July 2015, Wilson revealed that God spoke to him during Super Bowl XLIX. During the big game he threw an interception instead of passing to running back Marshawn Lynch — a move that cost his Seahawks a second-straight championship ring.
"The play happens, and they pick the ball off. And I take three steps," Wilson told McPherson. "And on the third step, God says to me, 'I'm using you. ... I want to see how you respond. But most importantly, I want them to see how you respond.'"