Russia Has Nuclear Weapons, Putin Warns the West; Obama Readies for NATO Summit, Estonia Visit
Russia Has Nuclear Weapons, Putin Warns the West; Obama Readies for NATO Summit, Estonia Visit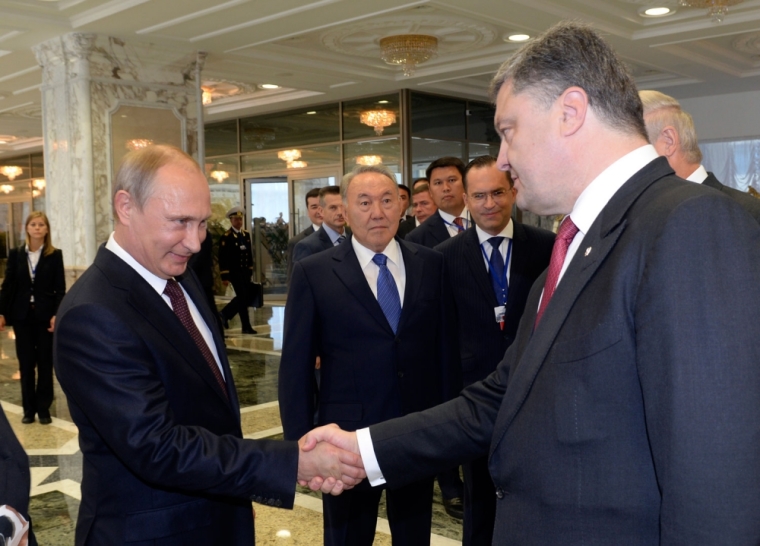 Amid severe international criticism for Russia's incursion into Ukraine and ahead of U.S. President Barack Obama's visit to Wales for a NATO summit and to Estonia next week, President Vladimir Putin warned "it is better not to come against Russia" as it is "one of the most powerful nuclear nations."
"I want to say immediately that Russia is far from getting involved into any large-scale conflicts. We do not want and do not intend to do this," state-run Itar-Tass quoted Putin as telling a group of youngsters in central Russia Friday.
"I want to remind you that Russia is one of the most powerful nuclear nations. This is a reality, not just words," Putin went on to say. "We are strengthening our nuclear deterrence forces and our armed forces. They are getting more compact and more efficient at the same time. They are getting more modernized in terms of their supply with the latest armaments. We continue building up this potential and we'll be doing this in the future," Putin said.
Also on Friday, NATO Secretary General Anders Fogh Rasmussen blasted Moscow for a "serious escalation of Russian aggression" in Ukraine saying Russia is conducting direct military operations there.
Rasmussen added that Russian military has infiltrated Ukraine to "destabilize Ukraine as a sovereign nation."
Russian Foreign Minister Sergey Lavrov criticized NATO for using "images from computer games" as evidence of Russian incursion. "Hiding the evidence is an outstanding characteristic of the U.S. and many EU countries," with regard to Ukraine, he added.
White House spokesman Josh Earnest said Friday that the reality is Russian troops are inside the Ukraine and have fired on Ukrainian military positions. "Those denials are completely without credibility," CNN quoted Earnest as saying.
Putin said Moscow is enhancing its nuclear power not "to threaten anyone but to feel secure and calm and have the possibilities to implement those plans, which we have for the development of the economy and the social sphere."
"We must always be ready to repel any aggression against Russia and our partners should always be aware that no matter in which condition their governments may be or which foreign policy concepts they may pursue, it is better not to come against Russia as regards a possible armed conflict," Putin said.
U.S. President Barack Obama will attend a NATO summit in Wales next week. He will also visit Estonia, which borders Russia, and meet all three Baltic leaders and give a speech Wednesday, according to Reuters.
At the summit, Obama is expected to underline the alliance's Article 5 commitment to the common defense of each member.
"Russia, don't even think about messing around in Estonia or in any of the Baltic areas in the same way that you have been messing around in Ukraine," Charles Kupchan, the senior White House director for European affairs, was quoted as saying.
According to a U.S. official, Russia has sent about 1,000 soldiers into southern Ukraine to fight alongside the rebels.
The summit gives an opportunity to Obama to be with leaders of European nations that have also imposed economic sanctions on Russia. The United States is considering making those sanctions more severe.