Sam Adams Beer Ad Blasted for Omitting God in Independence Day Commercial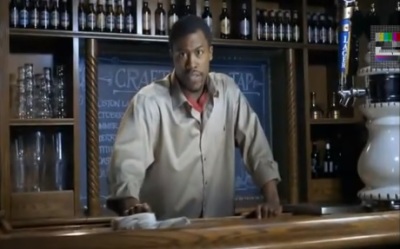 The Boston Beer Company is receiving mixed criticism for omitting a reference to God when citing the U.S. Declaration of Independence in a commercial for its Samuel Adams beer brand.
The commercial, which was released for the 4th of July holiday and carries an Independence Day theme, features an actor citing a portion of the Declaration of Independence.
"Why name a beer after Samuel Adams? Because Samuel Adams signed the Declaration of Independence," the actor, who is playing the role of a bartender, tells the camera in the commercial.
"All men are created equal, that they are endowed with certain unalienable rights: life, liberty and the pursuit of happiness," the actor says as he stands behind the bar and pours a glass of Samuel Adams beer.
The commercial is being criticized because it does not quote the original Declaration of Independence, which states: "… that all men are created equal, that they are endowed by their Creator with certain unalienable Rights, that among these are Life, Liberty and the pursuit of Happiness."
Samuel Adams' Facebook page, as well the YouTube channel featuring the commercial, have been barraged with supportive or critical comments regarding the beer company's decision to omit a reference to "the Creator" in its commercial, which has been airing for the latter half of June and early July.
Some have taken issue with the commercial because the U.S. founding father and brewer for which the beer is named, Samuel Adams, is known in history as a devout Congregationalist.
Others have even declared their intention to boycott the beer company due to this recent commercial.
"I have bought my last Samuel Adams beer. If you have no room for God in your product, your product has no room in my home," one commenter wrote on the company's Facebook page.
"As a veteran and a proud defender of this country, I and many others fought to defend and uphold the Declaration of Independence. Your company betrays everything we are about," wrote another Facebook user.
The company defended itself, saying in a statement that according to the advertising code of The Beer institute, a trade company which represents 2,800 breweries, it is advised to not reference religion in advertisements.
"The Beer Institute Advertising Code says, 'Beer advertising and marketing materials should not include religion or religious themes.' We agree with that and try to adhere to these guidelines," the company said in a statement, as reported by CBS News.
"While we understand your objection to the omission of the phrase 'by our creator' in other circumstances (after all, they occur in the Declaration of independence which Samuel Adams signed and helped author) we believe it would be outside our industry guidelines to invoke those religious words in a beer commercial."
Others have supported the beer company for its decision, including atheist Hemant Mehta, who writes the "Friendly Atheist" blog on Patheos and also recently spoke at Oak Hills Church in San Antonio, Texas.
On his blog, Mehta referred to the criticism of the commercial as an "overreaction" to "something that was probably done just to save time in a 30-second spot."
Still, others are blaming the company itself for attempting to use the Declaration of Independence in a beer commercial, as it is considered by many to be an important and revered document.
"It is fine (though somewhat inherently risky) to name a beer after an important American historical figure and build a brand around an image that espouses the all-American values of our founding fathers," James F. Thompson wrote for PR Newser.
"But, honestly, beer should not be treated any more seriously than that. Sam Adams should remember it is a beer company, not a political entity," Thompson continued. "So Sam Adams may want to revisit its decision to play loosely with the Declaration of Independence; Americans naturally have strong feelings regarding the document and take offense when they believe it is being exploited or molested."
As of Monday, the beer company has not made any indication that it plans to remove the commercial from television.
Many critics have referenced a similar incident in 2011 in which NBC apologized for omitting a reference to God during a promotional commercial for the U.S. Open golf coverage.