Samaritan's Purse Opens New Hospital 6 Miles Outside ISIS' War Zone in Mosul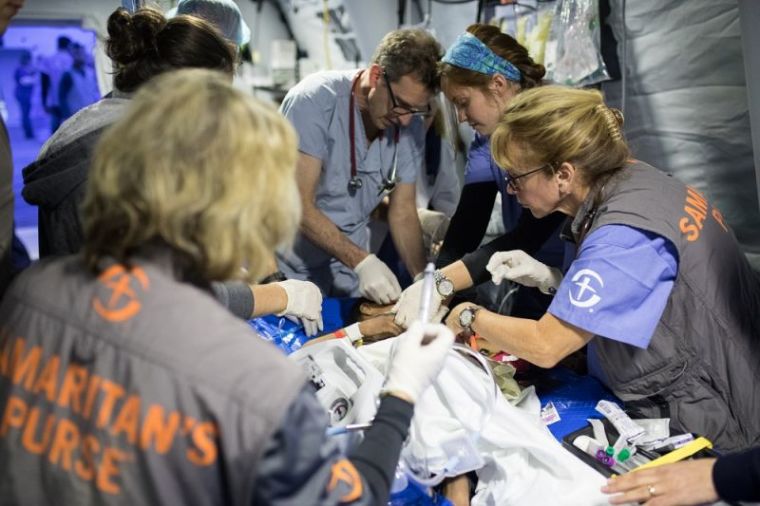 Iraqi soldiers, civilians and children critically wounded in the fight against the Islamic State in Mosul now have a fighting chance at survival thanks to a new field hospital set up just miles outside of the war-torn city by the evangelical humanitarian aid group Samaritan's Purse.
The organization, led by prominent evangelist Franklin Graham, partnered with the Iraqi Health Ministry to open a much-needed field hospital located just over 6 miles (10 kilometers) outside of the city limits of Mosul last week.
The hospital, which spans 5 acres and has an emergency room, two operating rooms, and over 50 beds, is now the closest medical facility to the front lines of the war between the jihadi death cult and the Iraqi coalition trying to liberate Iraq's second largest city. The hospital plans to remain open for at least six months.
Despite only being in its first few days of operation, the hospital and its staff of over 70-plus medical professionals have already saved the lives of dozens of people badly injured by the conflict.
Dr. Elliott Tenpenny, the hospital's director, told The Christian Post this week that a majority of patients the hospital receives suffer from a variety of serious injuries caused by the war, such as shrapnel wounds, gunshot wounds and burns. He added that "every single one of them is a trauma from the war and all of them are in need of surgery or they are critically ill and in need of stabilization."
"Right now we are just taking the most seriously injured — red and yellow patients is how they are described here. They are the most seriously injured patients that do not have a chance to make it to the next-closest hospital," Tenpenny explained. "We are focusing on them to save the most lives possible. Focusing on the patients that are most critically injured and can't survive the ride. So, we have treated dozens of patients. I think it is right under 100 patients at this point and we have only been open a few days."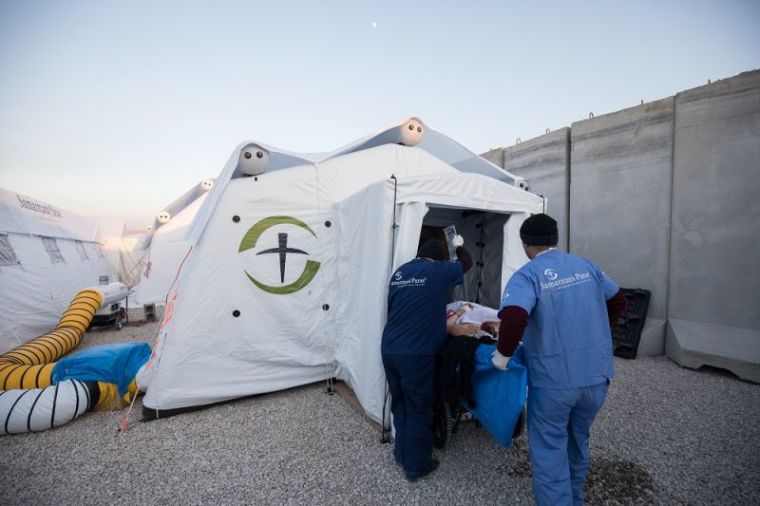 Tenpenny said there are only a couple of things the hospital is not equipped to handle. For example, any patient that requires brain surgery is referred to another medical facility since the field hospital does not have the capacity for neurosurgery.
Although there have been a few patients that the hospital staff has not been able to save, Tenpenny said that the medical staff has saved the lives of the vast majority of patients they've seen. About 95 percent of the patients who have died "would have had no chance even at the best centers in the world."
"They came in with wounds that were devastating," he said.
Earlier this week, Tenpenny appeared in a video posted on Graham's Facebook page where he described how the doctors at the field hospital were working to try and save the life of an innocent Iraqi girl who was seriously wounded when a mortar round fell into her home.
The girl, who was the hospital's first patient, had a wound in her back and came to the hospital in shock with low blood pressure. The girl was stabilized, given two units of blood and rushed to the operating room. After surgery, she was sent to the intensive care unit.
Tenpenny was not able to give an update on the condition of the girl.
"We have lost one or two little ones like that and many of them have made it out of the hospital," Tenpenny told CP.
Even though nothing has happened yet to make Tenpenny and the other hospital staff members fearful of their close proximity to the war zone, it is hard to ignore the sounds of battle echoing in the distance.
"We live and work in a difficult place. You wake up and go to sleep with the sound of artillery and gunfire around but we are protected by our security that is here," he explained. "There is no specific incident that has made me fearful, but we are sitting close to a war zone and we hear the war going on behind us and we know what the people are going through in those areas."
Each doctor and medical professional at the hospital is paid by Samaritan's Purse. Doctors have come from all over the world to work at the field hospital and most are only there for a number of weeks before they return home to their ongoing medical jobs. Staff members must stay in the area for a minimum of three weeks before they can return home. However, Tenpenny says that a number of doctors will stay there for months.
Christian medical professionals are still needed to staff the hospital for future deployments. Samaritan's Purse is looking for surgeons, nurses and anesthesiologists.
"We need prayer everyday. We do this in the name of Jesus Christ and we need to be sustained," Tenpenny said. "This work is difficult in many different ways. It's wearing and it's challenging. We need prayer individually and as a team in order to continue on striving. We need prayer for the community in general and for the people of Mosul — that they are spared and that they can access the healthcare they need. Just pray for us that through all this we are really a beacon of light in this area for Christ."
In order to donate to Samaritan's Purse projects in Northern Iraq, click here.