Samsung Galaxy Note 2 vs. LG Intuition: Features, Specs Comparison in the 'Phablet' War (Video)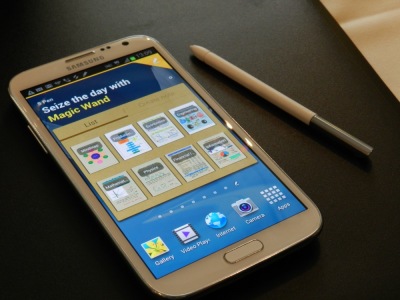 The Samsung Galaxy Note 2 is set to go head to head with the LG Intuition as both smartphones/tablets prepare to do battle for the phablet market.
Comparing the two it can be seen that the Samsung Galaxy Note 2 has some impressive specs. The device has a huge, 5.55-inch, 1280-by-720 Super AMOLED Display, which has a 16:9 aspect ratio and 265-pixel-per-inch density.
Meanwhile, what looks to become its greatest rival, the LG Tuition, features a slightly smaller 5-inch, 1024-by-768 IPS LCD, and a 4:3 aspect ratio and a slightly less dense 256 pixels per inch.
When it comes to design beauty then the Samsung Galaxy Note 2 will probably be the favorite. It has a similar slick feel as the hugely popular Samsung Galaxy S3, and looks state of the art.
However, the LG Intuition has been criticized by same as being too square in design, which has led to accusations that it is not a true phablet.
But the LG Tuition could still win many hearts with its pure power. It has a powerful dual-core, 1.5-GHz Qualcomm Snapdragon S4 processor. The Samsung Galaxy Note 2, though, could also feature a quad-core, 1.6-GHz Cortex-A9 if the U.S. version remains the same as the European one already released.
The Samsung Galaxy Note 2 will feature Wacom's S Pen, while the LG Intuition uses what LG is calling a Rubberdium pen, which is the same stylus as used on the Optimus Vu. In a face off the S Pen wins hands down, and has a lot more features and precision than what the LG Intuition brings.
So it is likely that the Samsung Galaxy Note 2 will be a firm favorite in the phablet market, although for those who cannot wait to get their hands on the Note 2, the LG Intuition is still a top phone and is already available on Sept. 6. It will be on Verizon for $199.99. Where as the Samsung Galaxy Note 2 will not drop in the U.S. until "later in 2012."
[GALAXY Note] Introducing Premium Suite with Ice Cream Sandwich