Sandusky's Pastor Says Christians Must Show Moral Strength
The pastor of Jerry Sandusky, the former Penn. State football coach who was convicted last Friday on 45 counts of child sex abuse charges, said every believer in Jesus must have moral strength, and that his church now had the opportunity to show that to the world.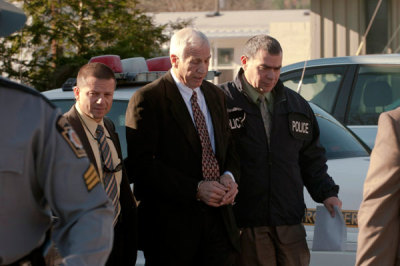 "In light of the misery, sorrow and suffering we see, affecting every aspect of our life, within us, in the midst of us, and around us – what are we to do," Ed Zeiders, senior pastor at St. Paul's United Methodist Church in State College, Penn., asked the congregants on Sunday.
"The world needs an answer, our community deserves an answer, and we need to answer together what is the most efficacious way to move forward from here," CNN quoted him as saying.
Pastor Zeiders was referring to the conviction of 68-year-old Sandusky, who is in a county jail cell in Bellefonte, Penn., for sexually abusing eight boys over a 15-year period. However, "in the midst of the raging storms around us," the church has been called to be a witness of Christ, he said. "If ever a local congregation has been given a moment to … reveal what it means to be Christian, this is that congregation in this moment in history."
Zeiders stressed that the Gospel has transformative power. "If we are to claim Jesus as savior, we must, without fail, come face-to-face with our own morality." And that morality, he said, isn't just a personal affair. "We have seen the evidence of what that means, again and again, and we are feeling the pain of such a thing today," he said. "This is a turning point when evidence is everywhere that our leaders have failed."
The pastor also told CNN that he had been ministering to the Sanduskys throughout the trial. However, he hadn't spoken to Sandusky since Friday, but was planning to. He said he continues to see his wife, Dottie, who is "holding up."
Zeiders earlier said the hope for forgiveness always exists, even if such a crime may never be forgotten. He said Sandusky should be forgiven, although his alleged crimes cannot be forgotten, and that everyone involved in the abuse and alleged cover-up needs to be held accountable.
While victims testified that some of the sexual abuse took place in the Sandusky home, Dottie Sandusky told the court she never saw or heard any inappropriate conduct between her husband and the young boys who came over to the house.
Sandusky regularly attended St. Paul's before the news broke of the allegations. He also has a sticker that reads, "Be still and know that I am God" (Psalm 46:10) attached to his garage door. His attorney is likely to appeal the conviction.
Jerry Sandusky Perp Walk After Guilty Verdict