Sanya Richards-Ross Praying for Delivery of Son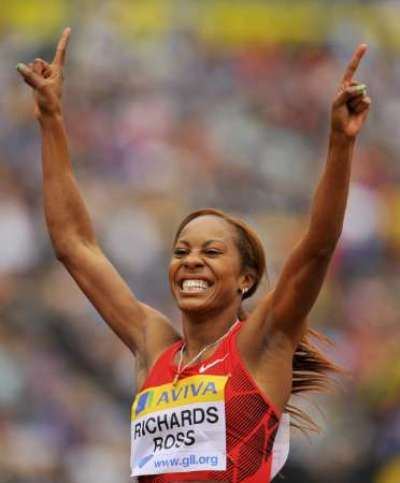 While countless media headlines are focusing on Olympic Gold medalist Sanya Richards-Ross' revelation about an abortion early in her career, the soon-to-be mother is praying for the delivery of her son.
Richards-Ross and her former NFL player husband, Aaron Ross, were spotted celebrating the upcoming arrival of their first child over the weekend at a baby shower celebration in Austin, Texas. The sprinter spoke to PEOPLE magazine about prayers for her son's birth.
"Now I'm just praying the delivery will be this smooth," she said after talking about the success of her baby shower that featured over 100 guests.
The newest addition to the Ross family is due in August, but the athletic couple is already gushing about the amount of love their son is receiving.
"Baby Ross already has so much love awaiting him – we can't wait to meet him, we are already so in love with him," the couple told PEOPLE.
Earlier this month, Richards-Ross released her book Chasing Grace: What the Quarter Mile Has Taught Me About God and Life. In it, she speaks about a tough decision to abort an earlier pregnancy because she was fearful for her career and about criticism from those who did not agree with her not being married at the time.
"As a Christian and a woman who never saw herself have an abortion, it was really tough for me to experience," she told Fox News Tuesday. "I get emotional talking about it right now."
The track and field athlete spoke to The Christian Post in a 2013 interview about the role God has played in her life.
"When I trust in God He comes through," she told CP. "I just think as I've grown in my faith and grown in my trust in God every obstacle doesn't seem insurmountable."