Sarah Silverman Reaches Out to Man Who Called Her Sexist Slur, Pays For Medical Treatment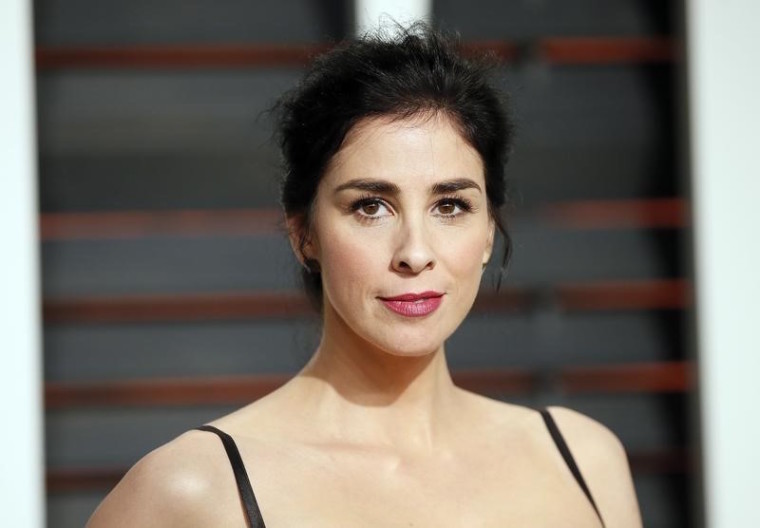 Sarah Silverman's kind response and subsequent offer to pay for the medical care of a man who called her a derogatory, sexist slur is making waves on the Internet.
As Quartz reported Friday, the 46-year-old comedienne had tweeted an article from BUST which describes her most recent gig, a Hulu series called "I Love You, America," in which she, a political liberal in the entertainment business, travels to the American heartland to connect with supporters of President Donald Trump in order to understand them better, when the man in the Twitter thread of responses called her the slur.
She told the man, Jeremy Jamrozy from San Antonio, that, having read his Twitter timeline, she believed in him and perceived that his anger was "thinly veiled pain." Jamrozy's timeline shows that he has was dealing severe back pain, something else Silverman reportedly has in common with him.
"See what happens when u choose love. I see it in you," her tweet concluded, attempting to encourage him.
He responded: "I can't choose love. A man that resembles Kevin Spacey took that away when I was 8. I can't find peace if I could find that guy who ripped my body who stripped my innocence I'd kill him."
He added that he was poor, which that makes it harder to get help.
Silverman replied: "I can't imagine your rage. Just reading that makes me want to do bad things. Stand by."
Jamrozy's Twitter bio reads, "Just a junkie wit a monkey," which prompted Silverman to further inquire if he used heroin. He told her he only smokes marijuana and takes medications he is prescribed.
"Good. I want to kill him too so I can't imagine your rage. All I know is this rage — and even if you could kill him — it's punishing yourself. And you don't deserve punishment. You deserve support. Go to one of these support groups. You might meet ur best bros there," Silverman said.
Jamrozy tweeted back: "I will go. But I trust no one I've been burned so many times. I'd give the shirt off my back and everytime I get burned. I'm super antisocial. I have no friends," and offered an apology for harassing her.
Silverman told him that she didn't care about the name calling, that she was fine, adding "I see something in you. My gut tells me you could have a great life. My shrink says we don't get what we want, we get what we think we deserve. I'm telling you, you deserve so much more than you know."
"I'm so psyched you'll go. KEEP ME POSTED," she wrote back in a separate tweet, "Don't give up on yourself. Be brave enough to risk getting burned. It's what happens when u fight for yourself. But it's worth it. I promise."
She then asked her more than 12 million Twitter followers to help her locate back and neck care specialists in the San Antonio area who might be able help Jamrozy.
She soon received responses from pain clinics willing to help Jamrozy. One week later he was able to get an MRI which showed he has five slipped discs.
Silverman offered to pay for his back treatment in full, Quartz reported, a move that inspired Jamrozy to use funds he already raised through a GoFundMe page to help others in need.
He tweeted his gratitude to everyone who helped him on Friday:
"Thank you to all the support financially, emotionally, and donations. This is more than I could have wished for," Jamrozy said.
Silverman, who is ethnically Jewish and says she has no religion, has produced controversial comedy skits that appear to mock the Christian faith. A recent example depicts a Jesus character defending liberal positions on a range of issues, including abortion.