Saving Amanda Berry Was 'Christian, American' Thing to Do, Says Hero Charles Ramsey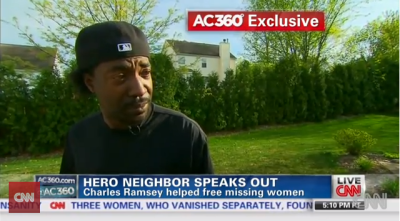 Charles Ramsey, the Cleveland man whose courage led him to help save Amanda Berry and two other women from a man who had held them captive for almost 10 years, doesn't think his actions were heroic. It was just the "Christian, American" thing to do, he says.
"No, no, no. Bro, I'm a Christian, an American, and just like you. We bleed same blood, put our pants on the same way. It's just that you got to put that – being a coward, and I don't want to get in nobody's business. You got to put that away for a minute," said Ramsey when asked if he saw himself as a hero in a seven and a half minute interview with CNN's Anderson Cooper.
"This man took love thy neighbor to heart and for that he has stolen mine! I adore him!" wrote Jenny Zale, a commenter on the video of the interview posted to YouTube on Tuesday.
Thanks to his Christian American values, Berry, 27, and the two other women, Gina DeJesus, 23, and Michelle Knight, 32, are now free.
Missing separately for nearly a decade when they were in their teens or early 20s, the three women were discovered by Ramsey and others, tied up and alive on Monday in a residential neighborhood south of downtown Cleveland, according to news reports.
In the follow-up interview with Cooper that was less animated than the initial news clips that turned him into an Internet sensation, Ramsey gave a poignant and at times haunting recollection of his daring rescue and insight into an uncommonly selfless nature.
He described how he had just returned from purchasing a sandwich at a nearby McDonald's restaurant and was enjoying it in his living room when he heard "this girl scream like a car had hit a kid." The chilling sound made him stop eating and look outside. He and another neighbor from across the street ran to the house, which Ramsey thought was empty since he saw his neighbor, Ariel Castro, leave earlier that day.
It was there that they discovered Berry who pleaded with them for help. "'I'm stuck in here, help get me out,'" he said the captive woman screamed.
After struggling to open the door, he kicked the door open enough so Berry could crawl out with her young daughter fathered by her captor. Even though he was still in shock himself, he helped her call 911 and waited with her until the police arrived.
Now, Ramsey can barely sleep; not because he is scared, but because he wasn't able to save Berry and the other women sooner.
"See that's why now I'm having trouble sleeping. Up until yesterday, the only thing that kept me from losing sleep was the lack of money … Now that that's going on and I could have done this last year, not this hero stuff, just do the right thing," said Ramsey, who was unaware of anyone other than Castro living at the house.
When asked if the FBI had contacted him about a reward, Ramsey's response was like that of a samaritan.
"I tell you what you do, give [the reward] to them. Because if folks been following this case since last night, you been following me since last night, you know I got a job anyway. Just went picked it up, paycheck. What that address say? ... 2203 Seymour. Where are them girls living? Right next door to this paycheck. So yes, take that reward and give it to – that little girl," he told Cooper.
According to a USA Today report, Berry arrived home for the first time in 10 years on Monday in a convoy escorted by police with her 6-year-old daughter Jocelyn.
Law enforcement officials said the three brothers who are suspects in the case of the missing women are "talking" but haven't revealed if they have confessed to alleged abduction and years of sexually abusing the three women.
Ariel Castro, 52, a former school bus driver and his two brothers, Pedro Castro, 52 and Onil Castro, 50, are being held on suspicion of rape and kidnapping.