SBC President Candidate JD Greear Reveals Most Difficult Questions About God in His Heart
Megachurch Pastor J.D. Greear of Summit Church in Raleigh-Durham, North Carolina, delivered a sermon about some of the most difficult questions he has about God in his heart ahead of the Southern Baptist Convention later this week, where he has been nominated for president.
Greear preached on Sunday at Jack Graham's Prestonwood Baptist Church in Plano, Texas, where he received a glowing endorsement by the latter.
Graham noted that Greear has been highly successful in growing his ministry, taking the Summit Church from a 300 membership to over 10,000 in weekly attendance in multiple locations.
At the same time, it has focused its efforts on missions and sending people to preach the Gospel.
"I don't know of any other church anywhere that is putting more people on the missions field, and planting churches, like the Summit Church," Graham said in the introduction.
"He is a leader's leader. I am hopeful, prayerful, and confident that this week the SBC will elect him as our next president," he said of Greear.
"I believe he is the man who can take one generation in one hand, and another generation in the other hand, and bring us together in the message of the Gospel of Jesus Christ."
Greear, who called Graham a "model and a hero" of his, preached a message from his new book, Not God Enough, explaining that "almost all of our spiritual problems go back to a view of God that is too small."
He said that many Americans "prefer a God that is small" and easy to understand and explain, but that does not align with the reality of the Bible.
"Only a God that we cannot fully comprehend with our minds is capable of sustaining our faith and igniting our passions," he said.
With that, he admitted that throughout his life, he has struggled with faith, specifically with questions about God that are difficult to answer.
"I know how to give the seminary answer, the theological answer; but in my soul I didn't feel like I had a great answer for them," he admitted.
One of those main questions he pointed to is "why is there so much suffering in the world?"
"I get that God can use some pain for His good purpose, but what possible good purpose could have God had for something like the Holocaust?" Greear asked.
"How does the concept of an eternal Hell align with the view of a loving God? Or if Christianity is true, then why do so few people, relatively speaking, believe in it?" he continued. "Why didn't God do more to get more people saved?"
The Summit Church leader said that his family has been assisting with providing help for Syrian refugees in the ongoing civil war, and shared a question from his eight-year-old daughter: "If God loves these people, why doesn't He fix all this?"
The megachurch pastor admitted that it is a "fair question."
"Why not send an army of angels we've heard so much about, why not send them to make the war in Syria end?" he positioned.
Greear said that he "couldn't reconcile" such things in his heart with a view of a "loving God."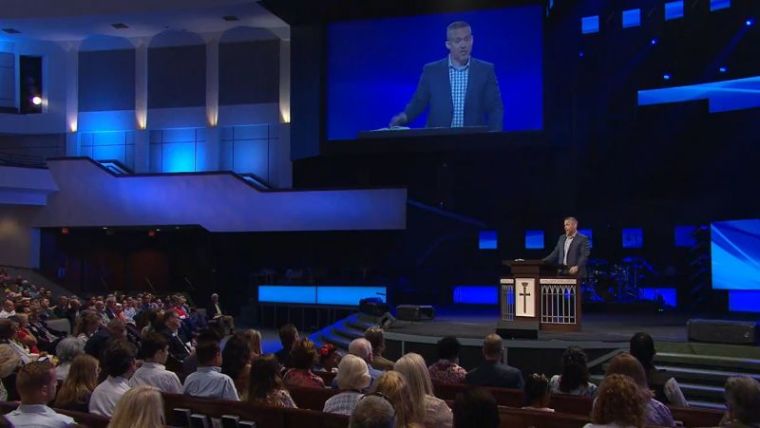 "How can you feel love and feel intimate with a God that so confuses and bewilders you?" he asked.
What helped him, however, were the stories in the Bible, and the accounts of numerous biblical figures and writers who also have had deep questions about God and struggles with faith.
Some of those figures he said included Job, King David, John the Baptist, and the disciples of Jesus themselves, some of whom continued to have doubts and uncertainty about Christ and His plan even as He ascended into Heaven.
Greear reflected that one of his primary problems was a "conception of God who was too small."
He suggested that doubt is not always a bad thing.
"Doubt is often a divinely orchestrated thing designed by God to pull you deeper into God," he said.
"A lot of the questions that you have in your heart have been put there by God to drive you deeper into the mysteries of God, into the fear of God."
Greear then examined closer the book of Job, the famous Old Testament figure whose good fortunes in life are overturned and he is made to suffer in a variety of different ways, including losing his family, after God allows Satan to put his faith to a test.
The pastor noted that although Job is restored by God at the end, no clear explanation is ever given as to why Job had to suffer so intensely.
He said that it ties in with the problem of evil, of why if God is all loving and all powerful, He does not stop suffering.
Greear offered that one important thing to consider is that God is also all-wise, in much greater ways that people can even comprehend.
"If God's wisdom is above your wisdom, then doesn't it make sense that a lot of what God is doing escapes your immediate ability to understand and comprehend?" he said.
As an example, he challenged people to think about the unfathomable size of the universe, and how much more infinite power God has over humans to have been able to breathe it into creation.
He said that God's wisdom works along the same lines, and is infinitely greater than what humans can grasp.
"Believers and non-believers should bring their questions to church, but they should realize how big God is," he advised.
"A God that is small enough to be understood and explained is not a God that is big enough to be worshiped. That's why I say praise God that we have a God that we can not exaggerate," he continued.
Greear said that the truth people should come to realize is that "Jesus is enough," and that Jesus is "God enough to work all this out for good."
The SBC 2018 meeting, which takes place on Tuesday and Wednesday in Dallas, Texas, will look to select Greear or former Southwestern Baptist Theological Seminary President Ken Hemphill as its next leader.
Back in January, Greear said that as president, he would seek to focus on racial and cultural diversity. In May, he added that he would also seek to include more women and minorities in the SBC leadership.
"Our failure to listen to and honor women and racial minorities and our failure to include them in proportionate measures at top leadership roles have hindered our ability to see sin and injustice and call it out," he warned at the time.
Greear's full sermon at Prestonwood Baptist Church can be watched on Facebook below: