School Shooting Debates: God, Guns, Video Games and Mental Illness
Friday's tragedy has sparked dialogue and debate on a range of topics as the nation seeks to understand acts of senseless violence.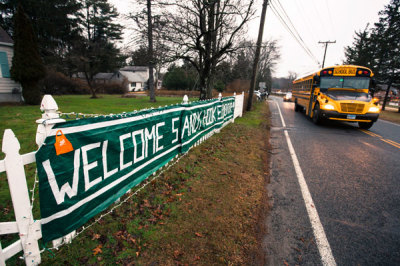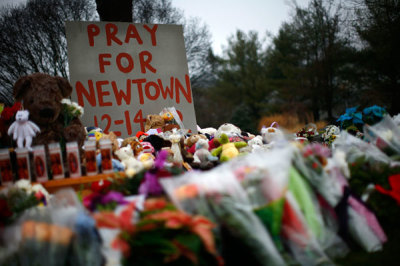 After Adam Lanza, 20, killed 26 people, including 20 children, at Sandy Hook Elementary School, Newtown, Conn., plus his mother and himself, the first question on the minds of many was, why? As thoughts turned to preventing similar incidents in the future, many other questions were asked: Where was God? What can be done to aid those dealing with mental illness? Are violent video games part of the problem? And, should gun ownership be more strictly regulated?
Sen. Dianne Feinstein announced Sunday on NBC's "Meet the Press," that, in response to the massacre, she would introduce an assault weapons ban on the first day of the new Congress. Congress passed a similar ban in 1992, which expired in 2002.
"Remember, we did have a ban on assault weapons," conservative Washington Post columnist George Will said Sunday on ABC's "This Week." "When we put the ban in place these instances did not really decline in a measurable way and when we took it off they didn't increase in a measurable way."
Fellow conservative Bill Kristol, editor of The Weekly Standard, said on "Fox News Sunday" that Republicans should "take a serious look at what might work" with regards to gun control. Republicans in Congress should hold hearing on the issue, Kristol suggested, adding that they should be serious hearings. "Don't do something symbolic, like the assault weapons ban, which did no good and made everyone feel good," he said.
Another conservative, Washington Post columnist Michael Gerson, called for banning assault weapons, along with a set of other gun control measures.
"Measures such as banning assault weapons, restricting gun show and Internet sales, limiting magazine size and ammunition purchases, and requiring more reliable background checks are fully consistent with the Second Amendment, which is not the right to keep a military arsenal. A nation that prohibits the civilian ownership of shoulder-launched missiles is already on a slippery slope – where all responsible governing takes place," Gerson wrote.
"We immediately go, after a tragedy like this, to the gun control debate, more than a mental illness debate," said "Meet the Press" host David Gregory after Feinstein made her assault weapons ban announcement.
In the months before they commit their crimes, the perpetrators of the recent incidences of mass violence found themselves, conservative columnist David Brooks explained, "lost in a black hole of their own festering," and it's up to parents and the mental health community to try to fill those holes "before they turn into these monsters."
In one blog post that has received much attention, Liza Long describes the struggles she has encountered with the nation's mental health system as the mom of a child struggling with issues similar to the shooters. Long originally posted her story on her blog, The Anarchist Soccer Mom, which was then republished by The Blue Review, The Huffington Post and Gawker under a new title – "I am Adam Lanza's Mother."
"In the wake of another horrific national tragedy, it's easy to talk about guns. But it's time to talk about mental illness," Long wrote.
The prison system has become the place to house the mentally ill, Long complained, and often the mentally ill cannot get help until they commit a crime.
"No one wants to send a 13-year-old genius who loves Harry Potter and his snuggle animal collection to jail. But our society, with its stigma on mental illness and its broken healthcare system, does not provide us with other options. Then another tortured soul shoots up a fast food restaurant. A mall. A kindergarten classroom. And we wring our hands and say, 'Something must be done,'" she wrote.
Joe Klein, a liberal columnist for Time, echoed Long's concerns Sunday on ABC's "This Week."
Klein noted that Lanza's mother took her son out of the school system out of the frustration of being unable to get the help she needed for her son.
"We got rid of mental hospitals in this country 50 years ago. That was a good thing. They were supposed to be replaced by medication and by residential settings like halfway houses," Klein explained. "But, nobody wanted to have halfway houses in their neighborhood, so we have abdicated our responsibility to the mentally ill in this country to the parents of the mentally ill, who are suffering right now."
Rep. Jason Chaffetz (R-Utah) agreed with Klein that improvements are needed in the mental health system, and added that lawmakers also need to look at the intersection of mental health and gun licensing and the realistic violence found in games and movies.
Brit Hume, Fox News senior political analyst, also raised concerns about violence in games and movies.
"We also need to try to find out, as best we can, what influences within the culture ... may have helped to create this wave of violence," he said on "Fox News Sunday." "Perhaps there has been a desensitization to violence."
How could a benevolent God who is all-powerful and all-knowing let a tragedy like that happen?
"The defense Christians often give to this argument is that God couldn't intervene because he gave man free will. But couldn't God have allowed the shooter to enter the school with guns but jammed all of them so that he couldn't harm anyone? Couldn't God have saved the children through any means that didn't involve changing the motivations of the shooter?" wrote Brent Brookstone for The Friendly Atheist blog at Patheos.
Ross Douthat, a conservative columnist for The New York Times and a devout Catholic, was reminded of Fyodor Dostoyevsky's The Brothers Karamazov in addressing that issue. In the story, Ivan Karamazov rejects God because of the fact that children suffer in the world.
He "accepts the possibility that the Christian story of free will leading to suffering and then eventually redemption might be true," Douthat explains, "but rejects its Author anyway, on the grounds that the price of our freedom is too high."
Much like in the New Testament, Douthat adds, the rebuttal to Ivan does not come through verbal arguments but "examples of Christian love transcending suffering."
Douthat reminds that the Christmas story also contains the massacre of children via the actions of Herod. And God, through His son, shares in our suffering.
"The rage of Herod is there as well, and the slaughtered innocents of Bethlehem, and the myrrh that prepares bodies for the grave. The cross looms behind the stable – the shadow of violence, agony and death," Douthat wrote.
Tribute to the 27 Victims of the Newtown School Shooting - 27 Angels in Heaven