'Scream Queens' Season 2 Spoilers: New Psycho Killer Known as the Green Meanie Claims 2 Victims So Far; Who Will Be The Next One?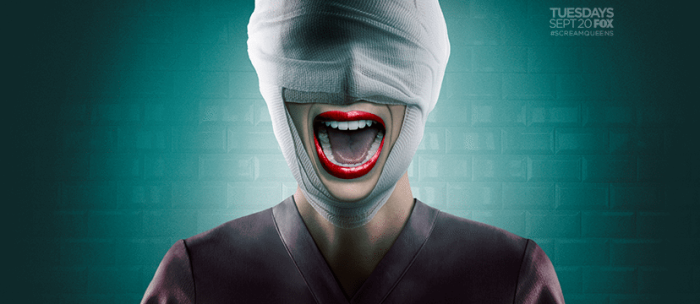 When "Scream Queens" Season 2 returns after a one week rest, the stakes will be raised on the third episode. Chanel and Chad's engagement will also be featured in the FOX comedy series.
Slimy green footsteps as key to killer's identity
With two deaths already happening in Dr. Munsch's C.U.R.E. Institute, all the new killer for "Scream Queens" Season 2 left behind as a clue to his identity were slimy green footsteps on the hospital floor that earned him the Green Meanie monicker. Chanel #5 (Abigail Breslin) is somehow involved in both murders and was even considered a suspect in the investigation of the first victim Catherine (Cecily Strong).
The second victim Tyler (Colton Haynes) could not have been possibly killed by Chanel #5 though, since she had fallen in love with him even with all the hideous tumors covering his entire body. Because of this, the other Chanels were able to figure out that they had another psycho serial killer in their midst in "Scream Queens" Season 2. Whether the new killer is specifically setting up Chanel #5 to be the murderer or it was just a matter of coincidence on both times have yet to be seen as the series progresses.
Evil transplanted hand
Chad (Glen Powell) came back for Chanel (Emma Roberts) and he very quickly took his rivalry with Dr. Brock (John Stamos) into a serious turn in "Scream Queens" Season 2. Because he wanted to discredit his rival in the eyes of Chanel, Chad had the doctor's transplanted hand investigated.
It turned out in the investigation that Dr. Brock's hand previously belonged to a serial killer Marshall Winthrop (Jay Whittaker) who played squash. It was discovered that Winthrop was responsible for the deaths of over 600 squash players who lost to him in the game.
There is now the possibility in "Scream Queens" Season 2 that Dr. Brock's hand which has been shown to have a mind of its own sometimes, could be the one responsible with the new killings even without the doctor being aware of it.
Green Meanie's mom
There is another candidate for the "Scream Queens" Season 2 killer and she is Dr. Ingrid Hoffel (Kirstie Alley). She previously asked help from Zayday (Keke Palmer) in keeping track of the Chanel's activities around the hospital. Spoilers speculate that Dr. Hoffel could be the pregnant woman whose husband died in a Halloween celebration thirty years ago in the hospital which was then known as Our Lady of Perpetual Suffering. She could be the Green Meanie's mother who is seeking revenge for her husband's death.
Episode 3 spoilers
When the third episode of "Scream Queens" Season 2 airs on October 11, Chanel and Chad's engagement will be featured. Dr. Brock will possibly take matters in what has been discovered his evil transplanted hand in the episode titled "Handidate".
In the same episode of "Scream Queens" Season 2, the lonesurvivor of the hospital's 1980s Halloween massacre will be held for questioning. Meanwhile, Dr. Cassidy Cascade (Taylor Lautner) will reveal to Chanel #3 (Billie Lourd) that he is actually already dead.