Self-Styled Christian Prophet Cindy Jacobs Says She Used Her Faith to Regrow Cheekbone, Rid Herself of Satanic Tumor
Self-Styled Christian Prophet Cindy Jacobs Says She Used Her Faith to Regrow Cheekbone, Rid Herself of Satanic Tumor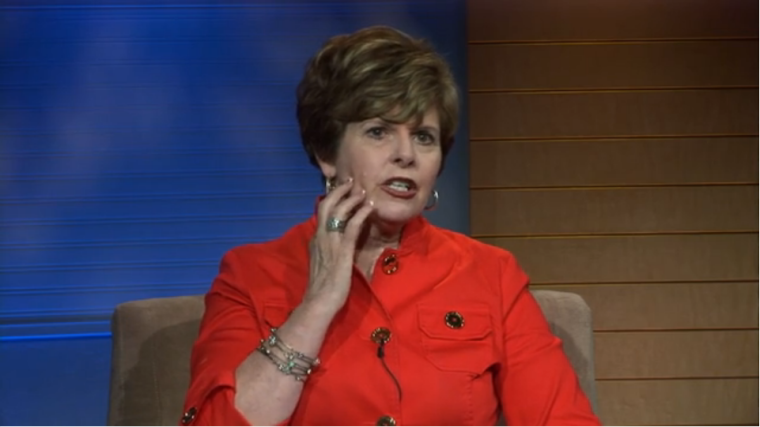 Self-styled television prophet Cindy Jacobs says she once used powerful faith to regrow a cheekbone in seconds and rid herself of a satanic tumor the size of a grapefruit that was growing behind her "lady parts."
Jacobs made the revelation last week in a web post from her "10 Minute Prayer School" series entitled, "Prayers To Heal A Shipwrecked Life."
Quoting I Timothy 1:19 from the New King James Version of the Bible, Jacobs explained that she was "shipwrecked" and "crippled in my gift" to heal after praying for someone who later died.
"I was so hurt over this that I wasn't willing anymore to extend my faith, I was shipwrecked," said Jacobs.
Everything changed she said during a prayer meeting where she started to "move out powerfully in faith."
"I gave this prophecy: 'You were in a car accident, and it destroyed your right cheekbone, so literally there's a hollow under your cheek, you have no cheekbone. Where are you?'" Jacobs said she asked at the prayer meeting.
"You see, that even takes faith to ask someone to stand up when you're ministering like this," she continued.
"And so, this woman stood up, you could see that she had been in a car accident, she had that concave, you know, look to her cheek," said Jacobs. "And I said, 'Reach up and feel it.' And she did. And as she rubbed her hand over her cheek, when she moved it away, you could see, God had grown the bone right under her hand. ... Praise the Lord!"
Jacobs later revealed that she was able to deliver herself from a tumor when God showed her "the root of some things that allowed sickness into me."
"I once had a grapefruit-sized tumor in my body, and the Holy Spirit showed me the source of that," she noted. "It had come from a root of unforgiveness and a root of wounding. And, in fact, it was near — or behind my female organs or whatever and the Lord showed me that Satan had wounded me as a woman," she said.
According to Jacob's website, she is a respected prophet who travels the world ministering to crowds of people and heads of nations. She was called by the Lord with the scripture, "Ask of me the nations for your inheritance, and the ends of the world for your possession," which she takes seriously. She travels annually and has spoken on nearly every inhabited continent.