Serita Jakes Weeps With Mother of Botham Jean as Potter's House Honors Her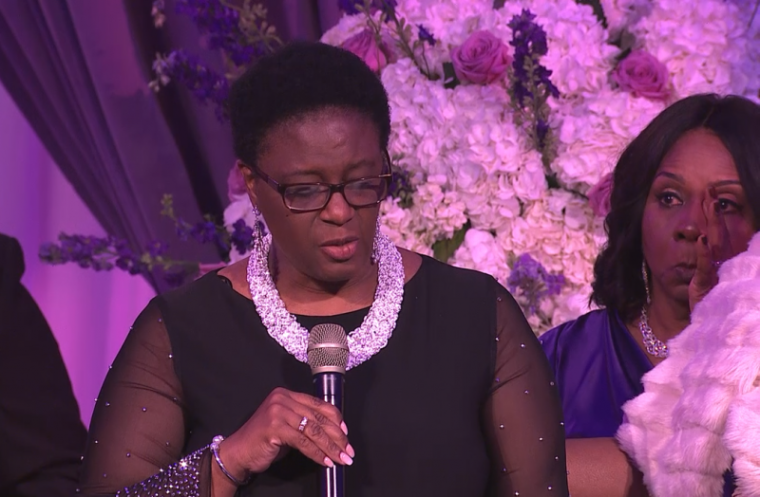 Serita Jakes, wife of popular televangelist Bishop T.D. Jakes, was visibly brought to tears last Wednesday as she listened to Allison Jean, mother of Botham Jean, talk about how she has been drawing strength from Scripture since her son was shot dead inside his Dallas apartment by local police officer Amber Guyger last month.
The emotional moment was captured in a recording of Jean addressing the audience after receiving the Lady of Grace award from Trayvon Martin's mother, Sybrina Fulton, during the God's Leading Ladies gala at Bishop T.D. Jakes' Woman, Thou Art Loosed! Master Class conference.
"When I received the email from lady Serita Jakes informing that I would be honored with the Lady of Grace award for the attitude which I displayed following my son's death, I pondered long and hard about receiving it. This has been a most trying period for my family. The year 2018 dealt us challenges of health, accident, unemployment and now this deadly blow of my beloved son Botham," Jean began.
From the very beginning of Jean's speech, Serita Jakes appeared to wrestle with deep emotion. The pastor's wife, squinted, shook her head and gingerly tried to wipe tears from her eyes before she appeared to simply give up as she listened to Jean thank God for His grace through her pain.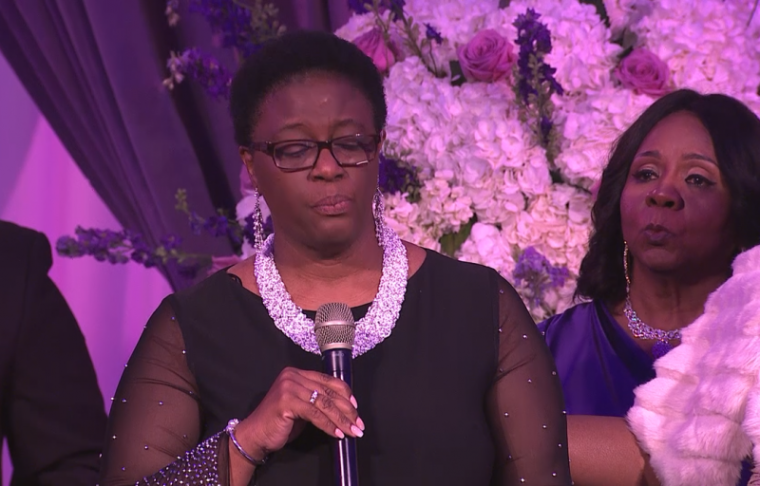 "The words of Brother Paul in I Corinthians 12:9 resonates when he said, 'My grace is sufficient for you. For my strength is made perfect in weakness.' I'm therefore humbled by this outpouring of recognition during this most grievous time and I wish to thank Rev. T.D. Jakes and lady Serita Jakes and the administration of Potter's House ministries for such an honor bestowed upon me," Jean who also received a donation of $10,000 to assist her with expenses as she seeks justice for her son's death.
Fulton, whose 17-year-old son was shot dead by George Zimmerman in Sanford, Florida, in February 2012, also praised Jean for allowing her "light to shine in even the darkest times."
"This year's recipient of the Lady of Grace award is walking in shoes I know too well. This grace walk she is on is tireless and demanding, with too many questions and often with too little answers. We come together this day to honor a woman who in the face of a mother's worst nightmare, has handled each moment and interview with elegance and grace. She is allowing her light to shine in even the darkest times," she said.
Bishop Jakes, who also embraced Jean supportively during the gala, said the award was made to Jean as a show of support from his ministry.
"This is a very sober and somber moment. It's not an award as such or prize that anybody would want. It is really an attempt to give strength to them that have no might," he said.
"To understand the fight for justice is not just one talk or words or tweets or not even as powerful as marches are. That this family that never expected to have to fly back and forth to our country has more expense, more challenges, more legal fees, more responsibilities than they ever expected to face. And I believe that leadership is not just about what you say it's about what you do," he continued.
The popular televangelist also assured Jean that she would continue to have the support of his ministry for as long as she needed it even though she was not a member of his church.
"I never met this family before. We have been supporting in other ways behind the scenes trying to make a difference and will continue to do all that we can as long as you need us. You don't have to go to our church to receive our love. We love you," he said.
Jakes, who as part of his ministry works to keep public attention on the issue of racially unjust violence also urged leaders from all races to join together to combat the problem.
"This is a 200-year-old problem that we are still facing within contemporary society. Today too many families have become victims to senseless tragedies. Now is the time to unite and not divide. We need leaders of all colors to come together and recognize we have a problem across America. My hope and prayer is that together as a community we can work together to educate society and change this disturbing pattern. Regardless of race and background, every mother should feel that her children are safe," he said.
Jean graduated from Harding University, a private Christian university in Searcy, Arkansas, in 2016 with a degree in accounting and management information systems. At the time of his death he was working at PricewaterhouseCoopers in Dallas where he was only recently hired after an internship with the company.
During his time at Harding, he had become known through his frequent leadership in worship at chapel and campus events, university officials said. The university's student publication said he was a member of the acapella group Good News Singers, the Harding University Rugby Athletic Club and men's social club Sub T-16.
His love for singing continued at Dallas West Church of Christ where he was serving as the worship leader at the time of his death.