Seven Quotes Showing Maya Angelou's Love of the Bible and Faith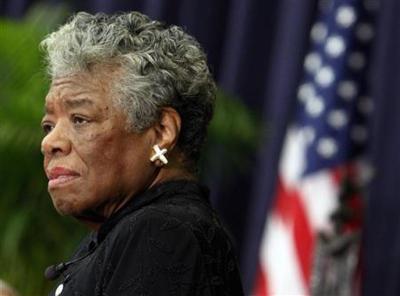 Maya Angelou, the internationally celebrated poet and author, died at 86 on Wednesday, May 28. In addition to her trove of writings about her heartbreaking childhood, her convictions on civil rights, and dozens of film, television and play scripts, Angelou often wrote about her faith as well.
Below are several excerpts and quotes from the-late inspirational woman who, in 2010, became a recipient of the Medal of Freedom.
1. In 2013 in a promo for "The Bible" series, she says: "In a world of confusion and noise I look for the moments that help me understand who I am, where I come from and what I want to be. This Bible series brings to life the stories that have shaped our world and shaped my life. Stories that have helped me to forgive. Helped me to love. Helped me to overcome. Helped me to survive, and even do better than that, helped me to thrive."
2. "While I know myself as a creation of God, I am also obligated to realize and remember that everyone else and everything else are also God's creation."
3. In a 2013 interview with Oprah, Angelou describes reading the line "God loves me" over and over again.
And finally I said, "God loves me" [crying]. It still humbles me that this force that makes leaves and fleas and stars and rivers and you, loves me. Me, Maya Angelou. It's amazing. I can do anything. And do it well. Any good thing, I can do it. That's why I am who I am, yes, because God loves me and I'm amazed at it. I'm grateful for it.
4. "Listen to yourself and in that quietude you might hear the voice of God."
5. "I know that when I pray, something wonderful happens. Not just to the person or persons for whom I'm praying, but also something wonderful happens to me. I'm grateful that I'm heard."
6. In a 2002 interview with the Palm Beach Post-Cox News Service, she said: "I'm grateful to be a practicing Christian. I'm always amazed when people say, 'I'm a Christian.' I think, 'Already?' It's an ongoing process. You know, you keep trying. And blowing it and trying and blowing it ...
7. In the 1990 Paris Review, Angelou was asked, "You once told me that you write lying on a made-up bed with a bottle of sherry, a dictionary, Roget's Thesaurus, yellow pads, an ashtray, and a Bible. What's the function of the Bible?"
"The language of all the interpretations, the translations, of the Judaic Bible and the Christian Bible, is musical, just wonderful. I read the Bible to myself; I'll take any translation, any edition, and read it aloud, just to hear the language, hear the rhythm, and remind myself how beautiful English is. Though I do manage to mumble around in about seven or eight languages, English remains the most beautiful of languages. It will do anything," she replied.
The Paris Review reporter then asked, "Do you read it to get inspired to pick up your own pen?"
"For melody. For content also. I'm working at trying to be a Christian and that's serious business," Angelou asserted. "It's like trying to be a good Jew, a good Muslim, a good Buddhist, a good Shintoist, a good Zoroastrian, a good friend, a good lover, a good mother, a good buddy—it's serious business. It's not something where you think, 'Oh, I've got it done. I did it all day, hotdiggety.'"
She continued, "The truth is, all day long you try to do it, try to be it. And then in the evening, if you're honest and have a little courage, you look at yourself and say, 'Hmm. I only blew it 86 times. Not bad.' I'm trying to be a Christian and the Bible helps me to remind myself what I'm about."