Sex Shouldn't Be Better Than Church, Says Professor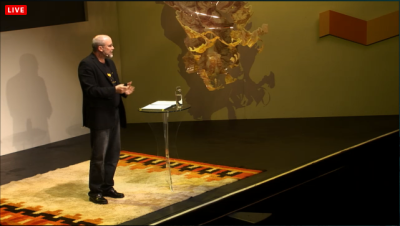 Although it may not be the case for many Christians today, Dale Kuehne, pastor, political science professor and author of Sex and the iWorld told an intrigued audience at the Q Conference in Los Angeles on Monday that sex should not be better than church.
In a presentation dissecting the value of different types of relationships, the professor of politics at the prestigious Anselm College in Manchester, N.H., said sexuality, like hunger and other human desires, was simply an appetite. As a result, he says, a sexual relationship should not be idolized as the ultimate manifestation of human relationship.
Friendship, he argues, is the ultimate relationship and that ultimate relationship could only be found through friendship with God because it is impossible to know or exhaust everything about Him.
"Sexuality is an appetite," he said. "The more you engage in appetite the more you want. If friendship is the highest of all relationships do you want to sexualize it? …You can't improve a relationship by sexualizing it.".
"There is nothing we can imagine that if we possess it we won't become bored with it. Imagine your ideal spouse, be with them for seven years," he challenged the audience.
Referencing theories of friendship from Greek philosopher Aristotle, Kuehne posits that friendship, from a purely relational point is more important to human beings than sex.
"It's a pity that so much of the church has dropped so low that sex is better than church. It shouldn't even be a close call," said Kuehne.
The professor's discussion stemmed from the issue of same-sex marriage which he said he was forced to address once it became legal in Massachusetts.
He explained that over the last decade, he has had the opportunity to meet numerous members of the press and presidential candidates who traditionally pass through the college in election season for debates. He said he was always being asked about his views on same-sex marriage and had over the years and he kept reserving his comments until the issue became not just a question, but the law.
"As a pastor I can't say no comment; as a pastor, I have to engage," said Kuehne. "The Christian teaching about sexuality is good news."
Pointing out that there were different discussions on sexuality taking place in various places of the world like in Germany where bestiality is being debated or Switzerland where consensual incest is being discussed, he said the issue of same-sex marriage is an anthropological question.
"What does it mean to be human?" he asked. "Does gender matter? Sexual orientation? Is there any debate that can more quickly polarize America? Why would someone in their right mind go out and speak publicly on this issue?"
He noted that the world has shifted from a place that valued human relationships, family, neighborhood and city.
"We were made to live in these relationships," said Kuehne. "Sexual relationships should be confined between a man and a woman."
The world now exists as a place where people have no boundaries, explained the professor. People can now do what they want as long as they don't harm anyone; as long as there is consent and they don't judge the morality of others.
"These three taboos are now the foundational narrative of the world that we live in," said Kuehne.
This focus on self and the creation of a "liquid anthropology" where people are not worried about the past or future and just live in the present has created an unstable society he refers to as the "iworld."
As a result of this shift, he said, American is now faced with the unsustainable costs of broken relationships.
"The problem with that is that as marriage becomes obsolete the social cost is profound," he said, noting that it costs four to eight times more to raise a child born outside of wedlock.
"The social cost increases as more children are born outside of marriage … What will this mean at the end of life? As family bonds become less, how are we going to take care of the elderly? It's that we can't afford it," said Kuehne flatly. "We cannot afford the breakdown of family. We in the United States cannot afford it, if we were not the world's reserve currency we would be up the creek."