Should Christian Parents Spank Their Children to Discipline Them? Pastors Weigh-In After Adrian Peterson Switch Beating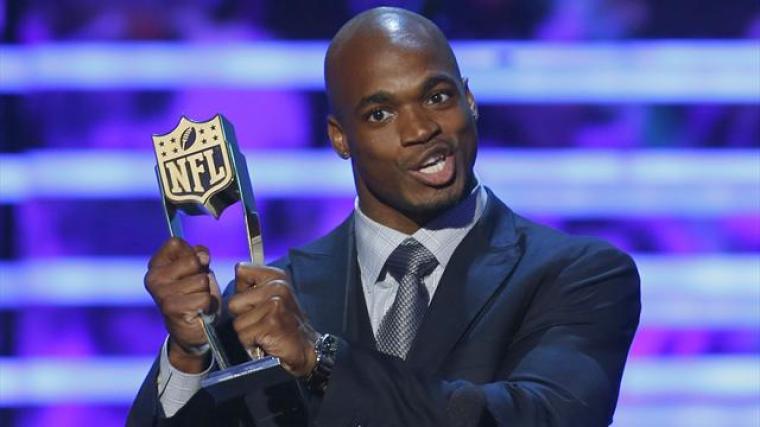 Corporal punishment has been in the headlines lately due to a high-profile incident with NFL player Adrian Peterson, but what do Christian pastors and parents think of this particular form of punishment?
The Minnesota Vikings running back made headlines after photos of his 4-year-old son's injuries following punishment involving a switch, went public. Peterson said that he was disciplined in the same manner and never meant to hurt his son, but the public immediately responded to the photographs with a mixture of support and disdain for the player and the idea of corporal punishment.
Peterson is a Christian and has tweeted several responses and verses of Scripture during his time in the public eye, especially following the publication of the photos. He has held fast to his faith and wrote that he is "not a perfect son … husband … parent," but is "without a doubt, not a child abuser."
One organization that supports the use of corporal punishment is Focus on the Family. In response to a parent's question of whether to use physical punishment and whether it is healthy, the organization issued a lengthy defense of corporal punishment, which it claims is "beneficial to a child because it is in harmony with nature itself."
"God created this mechanism [pain] as a valuable vehicle for instruction. When a parent administers a reasonable spanking in response to willful disobedience, a similar nonverbal message is being given to the child. The minor pain associated with this deliberate misbehavior tends to inhibit it, just as discomfort works to shape behavior in the physical world," the organization posted on its website.
Actress and Christian mother Lisa Whelchel also supports corporal punishment and wrote about her parenting experiences in her book Creative Correction.
"So I chose to spank," Whelchel wrote. "And for many years it worked, even on [son] Tucker. Using corporal punishment while my children were young actually afforded our whole family more freedom in the long run, because it established boundaries and reminded the kiddos who was in charge–freeing me up to try other, more creative corrections as they matured."
"I believe children also understand this [need for correction] (though they may not admit to it!). Somehow, they intuitively know spankings are good for them, and that they receive them not only because they deserve it, but also because their parents love them. Corporal punishment is most effective when our kids know what God says about discipline," she continued.
There are those who are opposed to the practice, citing religious reasons, albeit different reasons than those supportive of the practice. Denominations and churches have also participated in the debate, with many coming out in support and those against; for example, the United Methodist Church passed resolutions in 2004 that discouraged parents against using corporal punishment and encouraged states to pass legislation banning it in schools, daycares, and other childcare facilities.
"I am against it," Rev. Beth Boisvert of the Community Church of Francestown (United Church of Christ) in New Hampshire told The Christian Post. "I think it proves—even when used, as some claim to do, in a controlled manner without anger—that those with power must do whatever they can to hold onto it. I think it is completely against Christian standards, and particularly the teachings of Jesus. But even Paul wrote a lot about how communities should engage with each other, and I think that goes for families as well."
"Parenting is not easy, particularly if a child is strong-willed, defiant, and/or knows exactly how to push our buttons, but resorting to physical aggression is not the answer, and does nothing to fix the problem or the relationship," Boisvert added.
It would seem that while corporal punishment is a common practice, numerous religious leaders are against it. There are several websites dedicated to spreading the message of non-violence against children and citing Jesus as the example to follow. Jesus preached a message of love, patience, and warned the public not to harm any children.
"As a parent, I set boundaries. I discipline through teaching (the root of the word discipline is disciple, after all, and it should be more about teaching than punishing), and I make sure my daughter knows I love her and will always take care of her physically and emotionally," Rev. Cordelia Strandskov (United Church of Christ) from Santa Cruz, California, told CP.
"Finally, I'll just say that I always tell parents that their children God's love through them—the only way children can conceive of how God loves them is by the example of how their parents love them. Violence and love have no connection in my theology, and I grieve for whom the two are strongly linked," she noted.
There will always be two sides to the corporal punishment debate. It's clear that parents feel strongly about their decision to use the practice or not; the Bible includes verses that can be interpreted to either support or condemn the practice, making it all the more difficult to come to a firm answer on whether corporal punishment should be enforced or not.