Should Christians Shop on Thanksgiving? Christian Leaders Offer Their Opinion
Is There a 'Right' Way for Christians to Engage Culture as More and More Retailers Open Their Doors on a Holiday Associated With Gratitude?
Thirty-three million Americans are expected to ditch their turkey and mashed potatoes and swarm the mall on Thanksgiving Day this year. Eager to maximize a shorter shopping window this year, abbreviated by six days because Thanksgiving falls in the last week of November, retailers are starting their deals and opening their stores earlier than ever.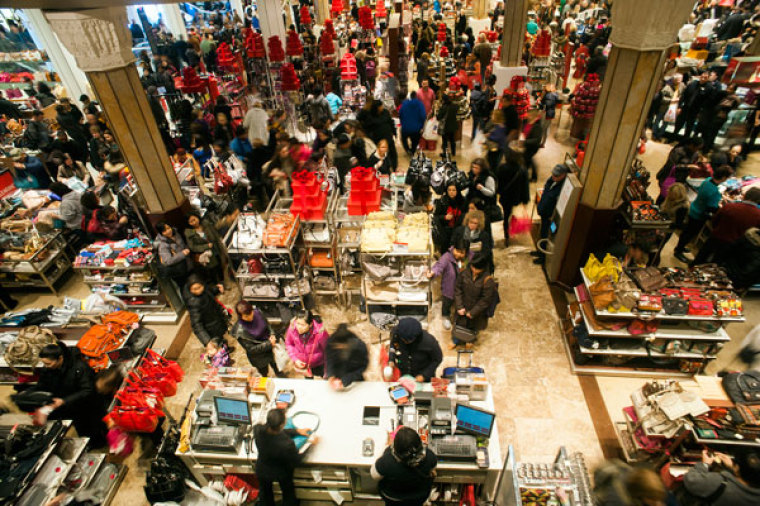 K-Mart and Old Navy are opening at 6 a.m. and 9 a.m. respectively on the holiday. Walmart will be also be open the entire holiday and commences its "Black Friday" deals at 6 p.m, the hour that electronic retailer Best Buy unlocks its doors. Staples, Sears, Macy's, J.C. Penney and Kohl's will welcome the onslaught of bargain hunters at 8 p.m.
Jim Wallis, President of the Christian social justice group Sojourners, offered a frank assessment of the season's manic shopping tendencies.
"America celebrates the coming of Christ with an orgy of consumerism," Wallis told The Christian Post.
"It's not only the amount we spend but the amount of time we spend worrying," Wallis said, adding that he sees many Christians stressed out during November and December "trying to find parking in shopping malls" or ensuring they have all the right gifts for their children.
"Is this really how we want to celebrate the coming of Christ?" Wallis said.
Rob Schwarzwalder, Senior Vice President at Family Research Council critiqued the retailers' decision as just another product of culture that made money, rather than relationships - the centerpiece of the holiday season.
"Thanksgiving should be about families and friends giving gratitude to God, not buying and selling. The emphasis on the possibility of good buys on Thanksgiving Day inevitably means that the purpose of the day, to honor our Creator, is diminished. Given the increasing secularization of our culture, less time for family, friends and worship is one of the last things we need," Schwarzwalder said in an email.
Jackson Dunn, the Director of Marriage and Family Formation at the marriage and children support organization, Focus on the Family, advised Christians against any knee-jerk reactions to the retailers' decision, cautiously suggesting that shopping might be a means through which the family might bond.
"This might actually be a family bonding thing…[where] you make a family activity out of this….It could be a bonding activity with positive economic impact," Dunn told The Christian Post. "That's why it's important for family to family to figure it out."
Dunn, who clarified that he is "not a Black Friday shopper," added that families even talking about whether or not they should shop on the holiday could lead to more intentional and healthy intra-familial conversations about what the holiday meant.
"In my work I try not to be naïve enough to think that everyone has just happy feelings around these holidays, whether it be because of loss or because of tough family situation. But one thing I've not done a good job of over the years is talking through my expectations for those big days," said Dunn.
"So when this conversation happens, "Can you believe they're opening up at 6 a.m.?' Well, maybe as a family, we can reflect on what is a good, healthy, fun experience for our family."
Wallis and Dunn expressed empathy for employees forced away from their families by employers who mandated they work on the holiday.
"On holidays it will be the least valuable workers to the firm who will miss the holidays with their kids," said Wallis. "We have this economy where low-income people are serving all of us and getting less and less support."
"I would hope there would be sensitivity from employers to respect [their employees' wanting to spend time with their families.] But, let's be honest, many probably don't care. 'This is your job. You're coming in,'" said Dunn. "I don't want to be naïve to [see] that really the potential big losers within this are those employees whose services are beckoned on an important day for customers and that can be tough."
Dunn, who grew up accustomed to volatile holiday plans as a child of a divorced home, stressed that it was vital that family members all offer each other flexibility if individuals did have to work.
"How does the family plan around that? 'Well, we've always done dinner at five.' 'Well, can you do lunch at 11?' Again, developing plans, adjusting expectations, being realistic on how we're approaching it," said Dunn.
Dunn challenged Christians to avoid critiquing culture at the expense of engaging it.
"There's a 'throw stones' approach, the boycotting, and 'Let's just show them' [attitude.] But you look at the research and [you can see] how much revenue for a store is made during this time. So [if people boycott] then employees lose a certain degree because of a choice in which they had no control."
Instead, Dunn suggested that families that might go out shopping during Thanksgiving and Black Friday acknowledge the sacrifice that many employees were making either through verbally affirming them or by handing out notes.
"So instead of standing up there with a sign and bashing them for a decision that they don't have any choice in, can we engage them? Such an effective part of ministry is engaging people where they are....You might through those words of encouragement and truth and affirmation...find a place to be that light and that salt that I think we all ask God for," said Dunn.