Signs Urging People to 'Dress Modestly' in Jewish Neighborhood Stir Emotions in Brooklyn, New York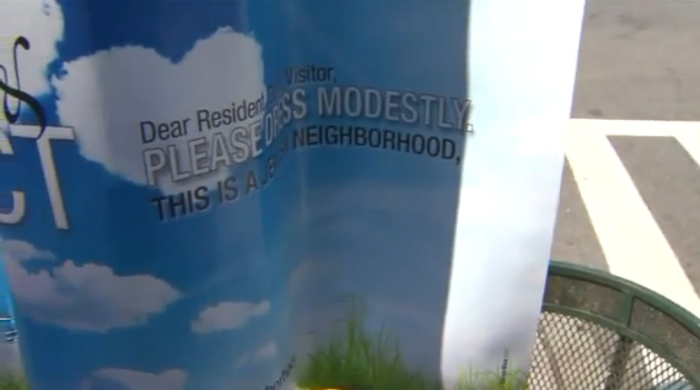 Signs posted in a Hasidic Jewish section of the Crown Heights, Brooklyn neighborhood of New York City urging visitors to "dress modestly" out of respect for the community have ruffled some members of the public who believe the sign was out of line in passing judgment on the way they dress.
"Love and Respect," the signs declared in a PIX 11 report before continuing: "Dear Resident, Guest, Visitor, PLEASE DRESS MODESTLY. THIS IS A JEWISH NEIGHBORHOOD."
Crown Heights resident Alexa Antopol, who felt offended by the signs, noted in a Gothamist report that the signs were out of line trying to tell people how to dress.
"I wear what I want to (what is most comfortable and appropriate), and have done so since I was old enough to purchase my own clothes," she wrote.
"'Modesty,' as defined by others, is not a consideration as I dress myself to face the day. I am capable of pulling together appropriate and flattering attire on my own, using my best judgment and taste," she continued.
"If one finds oneself offended by my attire, that's not my fault or my problem. Signs printed with demeaning and insulting subtext that my 'immodest' attire is offensive to a particular group to which I do not belong are offensive to me," she noted.
Lauren Evans who authored the Gothamist report said: "To the sign's creators — a few points. The attempt to create a sense of otherness by referring to passersby as 'visitors' and 'guests' is bull----. The street is city property, and its upkeep is financed by taxes we all pay. I am not a 'guest'— that street is as much mine as it is yours. I have not sauntered into your living room wearing nothing but a smile and a merkin. I have not dropped in to your child's preschool parading my second best nipple tassels."
One Rabbi in the neighborhood, however, agrees with the sign.
"A woman should cover up, she doesn't have to display what she's got," he told PIX11 News.