Six-Year-Old Maced: Video Reveals Shocking Attack in New York (PHOTO, VIDEO)
A six-year-old has been maced in a vicious attack in New York City. However, the alleged attacker was quickly apprehended by police, according to police, who say he surrendered just hours after the shocking assault.
The New York Police Department released surveillance footage in the aftermath of the attack, showing the shocking assault in which the attacker beat another man, before macing him and his little six-year-old girl too.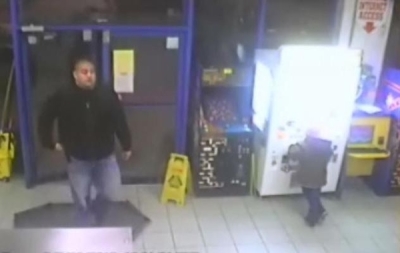 The attack happened at a Bronx coin laundry, and sparked a fierce hunt for the attacker by police, and the suspect, Fernando Gonzalez, surrendered and was arrested a few hours later.
The suspect is reported to have burst into the laundry shop on White Plains Rd. near Robertson Street about 6:10 p.m. Saturday.
He immediately strode forward and started attacking another man, identified as Derrick Dunn, according to authorities.
Police have stated that they believe Dunn and Gonzalez's girlfriend had previously gotten into a heated row over the use of a laundry card, according to the New York Post. It is alleged that Gonzalez had come back to take revenge for his girlfriend against Dunn.
The surveillance video footage seemingly shows Gonzalez holding down a shocked Dunn and hitting him repeatedly, in a vicious attack.
The alleged attacker then gets out a bottle of mace and sprays it at the 47 year old father, and his terrified six year old girl.
After the surveillance footage was released Gonzalez surrendered to police, who have since arrested him and charged him with assault.
Here is a video of the surveillance footage released by police showing the horrendous attack where the attacker beat the little girl's father before turning a mace can against the defenseless six year old: