Soap Opera Actress Chrystee Pharris Turns Career Into Ministry; Recalls Praying for Wiccan On Set (Exclusive)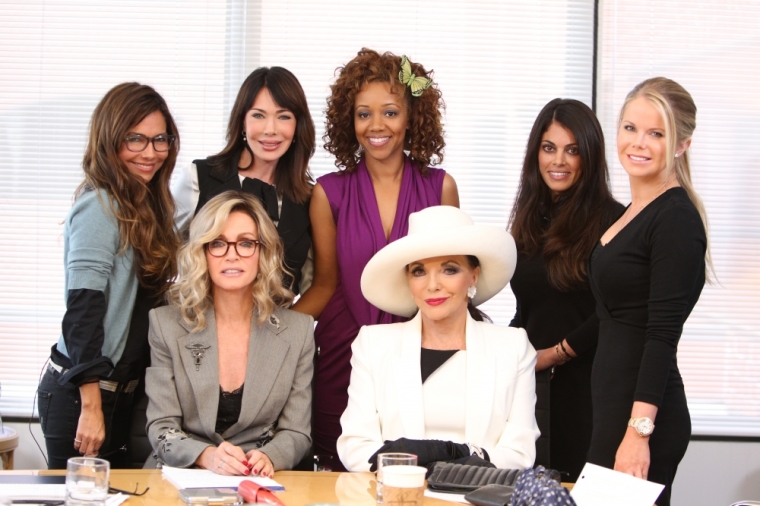 Soap operas are known for bringing dramatic storylines to television audiences for decades, but one small screen actress who got her big break on this type of programming believes God gave her the platform to use it as a form of ministry.
Chrystee Pharris, 39, had roles on multiple television shows like "The Steve Harvey Show," "Sister, Sister," and "Moesha," before making a name for herself by portraying Simone Russell on the hit NBC soap opera "Passions" in 2001 where she spent three years. It was on "Passions" that a young Pharris began to see how she could utilize her platform to spread the Word of God.
After only one month on the show, Pharris noticed a young woman who also worked on the show crying. Although the budding actress barely knew the young woman, the Lord prompted her to pray with her.
While the woman on set was not initially responsive to Pharris, the actress from Las Vegas later found out that her faith began to get stronger after that encountert. The young woman told her parents about Pharris, who they later called upon to help break the news that her uncle had severely injured himself.
After that ordeal, Pharris began to dedicate her life to Christ. Her pastor, Kenneth Ulmer at Faithful Central Bible Church, told the actress that she could turn her platform as an actress into a ministry when she first moved to Los Angeles.
"He really took me in and taught me 'when you get on a show, it is a ministry. You're there for a reason and that is to be a blessing to someone,'" Pharris told The Christian Post. "There were times when I didn't get things and I would say, 'I guess it wasn't meant for me to minister to someone on set.'"
Pharris, however, took countless opportunities to do just that, including to one person she worked with on a set who identified herself as a Wiccan. When the girl had a breakdown, she called Pharris in to help.
"She was like, 'you know, I don't really believe but I just know that you can get a prayer through. Would you pray for me, my family is really dealing with stuff'," Pharris recalled. "I was like, 'sure' and we prayed. Everybody's calling is different and this happens to be the way I do my ministry."
The actress said she made sure to remain active in the ministry beyond the Hollywood sets she frequented by working for God at Hollywood parties.
"I remember praying for somebody at a Will Smith party. I remember being kind of mad like, 'I don't want to be in a corner here praying, I want to meet Will Smith and Jada,'" Pharris confessed. "By the time I stopped praying they left and it was like 'no, I didn't get a chance to say hi!' But God was good because maybe six years later I ended up auditioning and booking their show."
Despite some perceptions about Christianity in Hollywood, Pharris says she has managed to put her faith at the forefront of her career in the entertainment industry.
"A lot of people think it's difficult to be a Christian in this industry, but really it's not," she said. "You have to play a happy medium."
Still, she revealed that she sometimes struggles with accepting roles that depart too far from her faith values and she usually turns to her pastor for help.
"He said, 'well, look at it from the perspective of, somebody has to play the devil.' It made sense to me, because there's good and bad," she told CP. "If there is something redeeming in the storyline, that is now how I base my characters. But if there is nothing redeeming in the storyline then I pass on it, and I've had to do that several times."
One of Pharris' most recent roles allowed her to combine her Christian roots with her craft. In the family faith-based film, "Steps of Faith," Pharris plays the lead character named 'Faith' who is not a church goer. Still, Faith has to convince her family that she's hearing from God, which they end up not believing and even mocking. The independent film is available on DVD, and has been accepted into 16 film festivals.
Pharris explains that she connected with the character through a similar experience in her life when God told her to move to Atlanta.
"I didn't tell anyone because sometimes you can't share your vision with other people because they can throw doubt in there. God didn't give it to them, He gave it to you," Pharris said. "I packed up, I left in 12 days and I haven't stopped working since. That's somewhat what 'Steps Of Faith' was about, which is why the movie is so important to me."
Outside of touring her one-woman show, "In Search of O," which is about waiting until marriage to have sex at the age of 27, the actress is also now making her way back to the world of soap operas with the POP TV show, "Queens of Drama."
In the show, former soap stars Lindsay Hartley, Crystal Hunt, Vanessa Marcil, Hunter Tylo and Donna Mills join with Pharris to work on a pilot for a soap opera of their own creation.
The actress says she prayed for an opportunity like this, and now fans are getting to witness it on Wednesday nights.
"It was one of those things I remember telling my friend, 'I want a reality show based around soap opera people.' She was like 'sure enough you're going to get it,'" Pharris recalled. "One week later, I got the call, 'here you go.' She was like, ' you prayed about it. I knew you were going to get it! You always have so much favor."
For Pharris, her purpose centers around more than just praying to have her name in lights and seeing them appear. The actress believes her calling is to minister to others using the platform that God provided.
"Someone else is going to do it a bit differently and I just try to be the best person that I can be in this industry and be an example to the young people," she said.
"Queens Of Drama" airs at 8 p.m. Wednesdays on POP. For more information about "Steps Of Faith," click here.