Sony Xperia P2 Images Leaked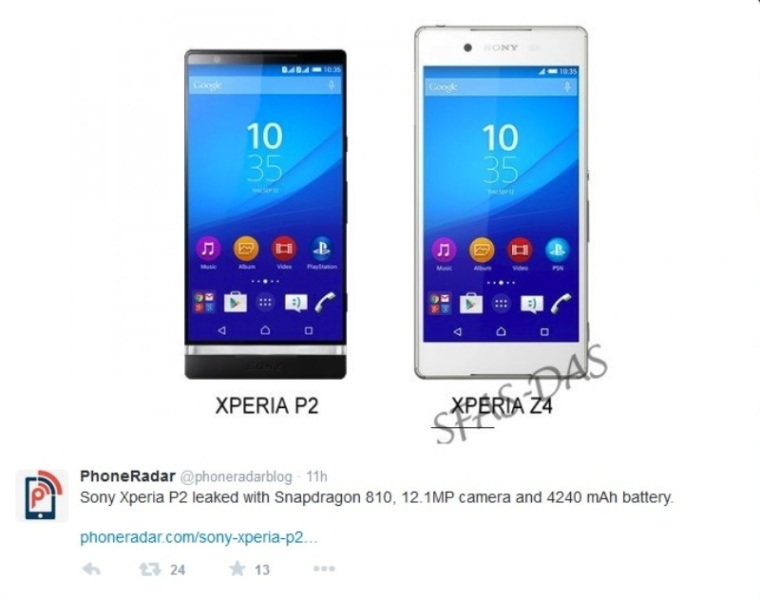 Leaked photos of another Sony phone, the Xperia P2, have been circulating online, giving rise to speculations the new phone is Sony's second flagship handset.
After the Sony quietly introduced the Xperia 4 in Japan last week and announced it was unveiling another version for the rest of the world, photos of what is rumored to be the Xperia P2 have leaked online.
Earlier on, news had been released Sony was planning to unveil a second flagship handset, and the released images may be the device reports have been referring to.
The leaked schematics, posted on Chinese site, cnBeta, posted the second smartphone's images and pointed out its name, design and device specs, featuring a blueprint different from Sony's other Xperia flagship handsets.
According to the website, the new phone, dubbed the Xperia P2, is set to be for international release.
With a TRILUMINOS 1080 x 1920 resolution IPS display, the Xperia P2 is said to be a 5.2-inch 8.9mm to 10.9mm-wide phone with a 64-bit octa core Snapdragon 810 processor under the hood, 3GB RAM and 32GB internal storage.
The mystery handset has a 12MP rear camera with a Sony 25mm F2 G OSS ISO 64-25600 lens, a 5.1MP front camera, and 4K video recording, and sports a 4240mAh battery.
While the Xperia P2 bears much of the same specs as the Xperia Z4, speculations are pointing towards the P2 as being the flagship phone Sony will be launching in May for distribution to the rest of the world, while the Z4 remains exclusive to the Japanese market.
No word has yet been released on when the Xperia P2 will be launched to the public, or whether the second flagship phone will end up an in-house rival for the Xperia Z4.