South Carolina Church Showered With 16 Bullets; Pastor Thanks God After No Church Members Die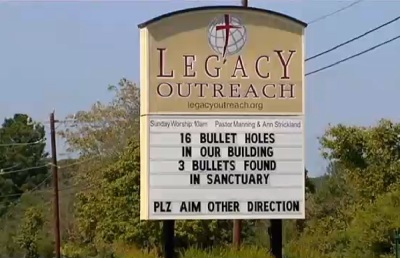 A pastor is thanking God after his South Carolina church was hit 16 times by bullets over the weekend — leaving parts of his ceiling falling down but without any parishioners hurt.
Legacy Outreach Church pastor, Manning Strickland, arrived at church on Sunday and found dust all over the back pews and the ceiling looking "like somebody had scraped it with like an iron pipe." He also found several bullets lying in the sanctuary, though the sound system and projectors were unscathed.
"If someone had been in there, it would not have been good," Strickland told The Christian Post. "We look at the bright side, we thank God, nothing was really hurt, just cosmetically."
Strickland believes that the shots were fired on Saturday, though it is unclear what time. He said that the church sometimes has movie nights on Saturday nights though there was nothing scheduled last weekend.
While police aren't sure who fired the bullets, Strickland said that although the church's sign has been vandalized before, he did not believe that this had been intentional. He instead, said he believed the shots were likely the fault of hunters because of the where the bullet's had landed and the church's proximity to the woods.
"If it was somebody that was trying to be malicious…they probably would have shot the front of the building," said Strickland. "But all of this was on the backside of the property, 200, 300 feet from where woods were."
Strickland and the local police have asked the individual or individuals responsible to turn themselves in.
"I guarantee they're probably not going to want you to go to jail for it, but they just need some restitution to repair the damages," said Lt. Tony Ivey with the Spartanburg County Sheriff's Office told KCTV5.
Strickland, who has been treating the incident with a sense of humor, said he has a new response for a question many people often ask him about the church; 'Why does his church have no windows?'
"Now we have 16 ones but they're small and round," he joked.